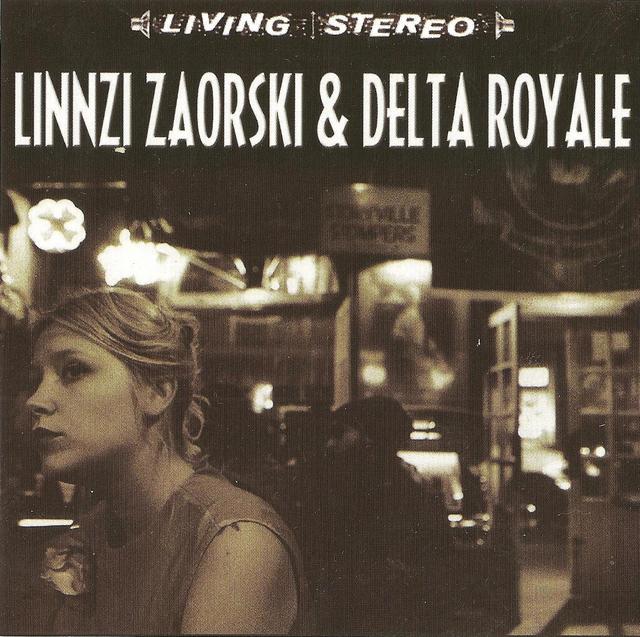 Artist:
Linnzi Zaorski and Delta Royale
Album:
Linnzi Zaorski and Delta Royale
Genre:
New Orleans Jazz / Swing
Released:
2002
Quality:
FLAC (image+.cue)
Tracklist:
Me, Myself and I 3:14
The Way You Look Tonight 4:11
Mean to Me 4:48
Rockin' Chair 5:09
Carelessly 2:27
Lullaby of Birdland 3:17
Don't Be That Way 4:16
What a Little Moonlight Can Do 6:38
I'm Gonna Lock My Heart and Throw Away the Key 2:05
Our Love Is Here to Stay 4:44
Stars Fell On Alabama 2:57
Why Was I Born? 6:18
Dream a Little Dream 5:37

Personnel:

Ryan Burrage - alto sax, tenor sax, clarinet
Charlie Fardela - trumpet
Robert Snow - bass
Seva Venet - guitar
Linnzi Zaorski - vocals
While technique, control and tone are important aspects of jazz singing, it is a performer's individual style that gets them recognized. You can learn technique, but not style. Throwback torch singer Linnzi Zaorski understands the importance of style as her debut album is brimming with it.Throughout, Zaorski is backed by a sympathetic quartet including Ryan Burrage on reeds, Jackson Square Band veteran Seva Venet on guitar,Charlie Fardela on trumpet and Robert snow providing the backbone on upright bass. Unlike her other gig with the New Orleans Jazz Vipers, Delta Royale veers away from the Hot Club swing into more of a singer's repertoire of popular standards made famous by the likes of Ella Fitzgerald and Billie Holliday. But Zaorski finds a voice outside of these singing giants on oft-covered classics like "Lullaby of Birdland" and"Stars fell On Alabama." Eschewing the pathos of Billie Holiday and the studied perfection of Ella, Zaorski evokes the great mildred Bailey (especially on the Bailey vehicle "Rockin Chair") with her stylized enunciation and bright tone. While it is Zaorski's affair, the band takes the spotlight swinging mightily on a hotversion of "What A Little Moonlight Can Do." But it is to the band's credit as accompanists that the focus remains on the voice of Zaorski.Even when singing laments like "Why Was I Born?" you get the impression thatbeneath the pout, there is an assured smirk, that when she declares "Our Love Is Here To Stay," shes crosing her fingers. This girl's definately got style.
by Christopher Blagg