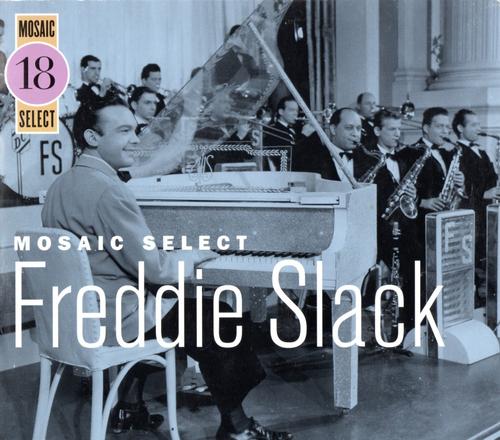 Artist:
Freddie Slack
Album:
Mosaic Select 18
Genre:
Boogie-Woogie, Swing
Label:
Mosaic Records
Released:
2005
Quality:
FLAC (tracks+.cue)
Tracklist:
CD 1:

Doll Dance (3:01)
Cow Cow Boogie (3:15)
The Air Minded Executive (2:48)
He's My Guy (2:42)
Mister Five by Five (3:03)
The Thrill Is Gone (2:58)
Riffette (3:03)
I Got a Break Baby (3:18)
Mean Old World (2:56)
Old Rob Roy (3:13)
Waitin' for the Evening Mail (3:16)
Wreck of the Old 97 (2:37)
Get on Board, Little Chillun (3:04)
I Lost My Sugar in Salt Lake City (3:11)
Mr. Anthony's Blues (2:34)
Small Batch O'Nod (3:02)
Furlough Fling (2:45)
Ain't That Just Like a Man (3:09)
The Gee Chi Love Song (3:00)
The Gee Chi Love Song (3:01)
Cuban Sugar Mill (3:08)
Sit and Nip (3:04)
Slightly Barbaric (3:12)
Bashful Baby Blues (2:55)
CD 2:

Soft Jive (3:08)
A Kiss Goodnight (2:47)
A Cat's Ninth Life (2:41)
Beverly Boogie (2:43)
Rib Joint (2:55)
Behind the Eight Beat (2:47)
Southpaw Serenade (2:46)
Kitten on the Keys (2:37)
Strange Cargo (3:02)
Blackout Boogie (2:33)
The House of Blue Lights (2:53)
Hey Mr. Postman (3:04)
Your Conscience Tells You So (2:53)
Pig Foot Pete (2:54)
Blackout Boogie (2:28)
Is I Gotta Practice, Ma? (2:42)
On the Road to Mandalin (2:24)
The H.C. Potter's Ball (2:39)
The Necessary Evil Blues (3:13)
Half After (2:39)
Cocktail Repartee (2:50)
What Is This Thing Called Rebop? (3:04)
The Brown Danube (2:59)
Boogie in G (2:43)
Lullaby (2:57)
CD 3:

Humoresquire (2:58)
Celeste Boogie (2:55)
Boogie Minor (2:53)
St. Louis Blues (3:10)
Chopstick Boogie (2:54)
Be-Bop Boogie (3:04)
Two Left Hands (3:00)
Strollin' (3:09)
Ooh Ooh Baby (2:58)
Steal Away Easy Baby (3:01)
Mister Freddie's Boogie (2:20)
Whatever Happened to Ol' Jack? (2:58)
Untitled Tune (2:39)
Ukulele Swing (2:13)
Choppin' the Boogie (2:18)
Untitled Original (2:18)
Big Boy (3:12)
Hard Hearted Hannah (3:19)
Cheatin' on Me (3:19)
Manhattan Serenade (2:44)
Rock A Bye Bay (3:02)
That Russian Winter (2:52)
Without a Song (2:31)

Freddie Slack was the pianist with Jimmy Dorsey's orchestra during part of the 1930s before becoming well known for playing boogie-woogie with Will Bradley's band, most notably on the hit "Beat Me Daddy, Eight to the Bar." In 1941 Slack went out on his own, forming a big band that soon signed with the Capitol label. His hit recording of "Cow Cow Boogie" in 1942 with singer Ella Mae Morse made him famous even though none of his other records caught on at the same level. Slack's orchestra just lasted two years and, although he had a new band during 1945-1946, many of his recordings were made with small groups. With the exception of a slightly earlier four-song session for Decca, five songs that were purposely bypassed, and a 1955 album of boogie-woogie and re-creations, all of Slack's recordings as a leader are on this three-CD set. There are 17 previously unreleased performances, including a five-song session from 1946 and three numbers from 1952. It is particularly interesting to hear the influence of bebop being felt in Slack's playing and some of the arrangements although he mostly remained a swing stylist. While most of his sidemen are little known, T-Bone Walker pops up on a few numbers (including two features), guitarists Remo Palmieri, Al Hendrickson, and Tiny Timbrell are assets, and every vocal by Ella Mae Morse is well worth hearing. In addition, Johnny Mercer is a guest on several tunes. The three-fer is wrapped up by all seven recordings by drummer Ray McKinley's long-forgotten 1942 big band, a band with trumpeters Dick Cathcart and Pete Candoli, valve trombonist Brad Gowans, clarinetist Mahlon Clark, and pianist Lou Stein in the personnel. Overall, this is a well-conceived release of mostly obscure but worthy music.
Review by Scott Yanow