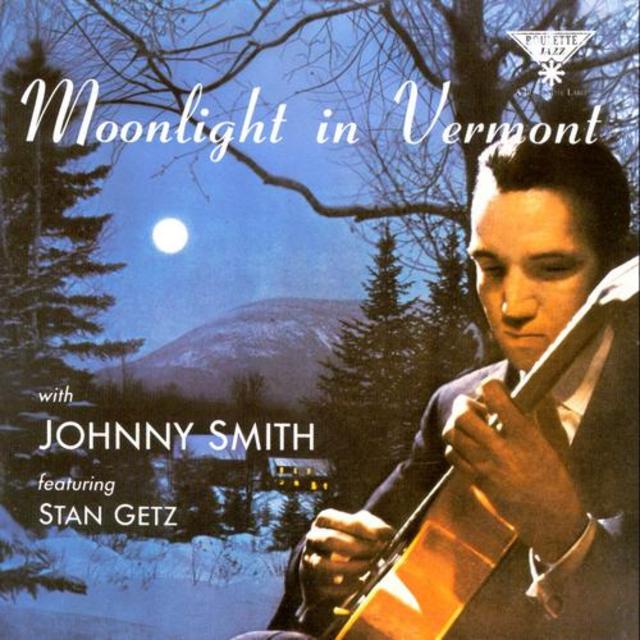 Artist:
The Johnny Smith Quintet
Album:
Moonlight in Vermont
Genre:
Cool
Label:
Roulette Jazz
Released:
1991
Quality:
FLAC (image+.cue)
Tracklist:
Where or When (Rodgers-Hart)
Tabu (Stillman-Russell-Lecuona)
Moonlight in Vermont (Blackburn-Suessdorf)
Jaguar (Smith)
Jaguar (alternate version) (Smith)
A Ghost of a Chance (Crosby-Washington-Young)
Vilia (Lehar)
My Funny Valentine (Rodgers-Hart)
Sometimes I'm Happy (Youmans-Robin-Grey)
Stars Fell on Alabama (Parish-Perkins)
Nice Work If You Can Get It (Gershwin)
Tenderly (Lawrence-Gross)
Cavu (Smith)
I'll Be Around (Wilder)
Yesterdays (Kern-Harbach)
Cherokee (Noble)
What's New (Burke-Haggart)
I'll Remember April (Raye-De Paul-Johnston)
Lullabye of Birdland (Shearing-Forster)
DOWNLOAD FROM FILECAT.NET >>>
All of guitarist Johnny Smith's most important recordings are on this definitive CD reissue. The talented guitarist (who always featured a very attractive tone and a relaxed style) had a major hit with "Moonlight in Vermont," thanks in large part to tenor saxophonist Stan Getz (who is heard on seven of the selections), and Smith was quite popular during the first half of the 1950s. This CD has all of the guitarist's 1952-1953 recordings except for three cuts (two done with organist Joe Mooney) and has a previously unreleased alternate take of "Jaguar." With such sidemen as Getz or fellow tenors Zoot Sims and Paul Quinichette and a solid rhythm section, Smith brings melodic beauty to a variety of standards, including "Where or When," "My Funny Valentine," "Tenderly," and "Cherokee." Recommended.
Review by Scott Yanow