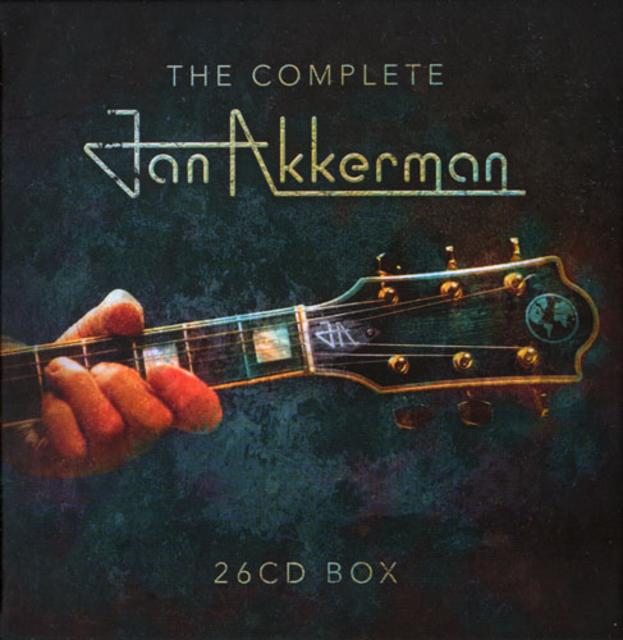 Artist:
Jan Akkerman
Album:
The Complete Jan Akkerman [26xCD Box Set]
Genre:
Jazz Rock / Fusion
Label:
Red Bullet
Released:
2018
Quality:
FLAC (tracks+.cue) + Full artwork, jpg, 600 dpi
Total time:
23:14:22
The Complete Jan Akkerman is a new 26 CD box set which brings together all the studio albums (and more) of Dutch guitar legend Jan Akkerman, who found international success with the band Focus.
The creative guitarist is well known for his individualistic style, combining rock, jazz, blues, and baroque into his solo projects. This 26-disc set includes the solo studio long-players, his most important live recordings and a CD of rare and previously unreleased tracks.
The booklet includes a biography, some unpublished photos and an album-to-album breakdown, featuring full credits (including never-before-published facts about who played what on specific albums) and Jan's own memories about the 23 studio and live albums, taken from recent interviews with Jan.
In terms of mastering, these have come from the best available sources, including analog two-track tapes, digital safety copies, and the odd DAT tape (for the rarities disc). Where master tapes have disappeared or been untraceable, then "a few" needle drops have been used. Everything has been remastered "carefully" to maintain dynamic range, and some are even flat transfers because they didn't need enhancing in any way.

Tracklist:
CD 1 - 1968 - Talent For Sale:

Bags Groove (2:45)
Revival of the Cat (2:57)
Moonbeam (3:09)
Mercy, Mercy, Mercy (3:26)
On the Green Light (2:57)
What'd I Say (2:39)
Slim Jenkin's Place (3:23)
Hineimatov (3:21)
Green Onions (3:19)
Ode to Billy Joe (5:33)
Comin' Home Baby (2:23)
CD 2 - 1972 - Profile:

Fresh Air: (19:54)


Must Be My Land
Wrestling To Get Out
Back Again
The Fight
Fresh Air - Blue Notes For Listening
Water And Skies Are Telling Me
Happy Gabrië?

Kemps Jig (1:33)
Etude (1:32)
Blue Boy (2:25)
Andante Sostenuto (4:08)
Maybe Just a Dream (2:34)
Minstrel/Farmers Dance (1:44)
Stick (3:37)
CD 3 - 1973 - Tabernakel:

Britannia By John Dowland (3:59)
Coranto For Mrs Murcott By Francis Pilkington (1:30)
The Earl of Derby, His Galliard By John Dowland (2:00)
House Of The King (2:25)
A Galliard By Anthonie Holborne (2:13)
A Galliard By John Dowland (1:35)
A Pavan By Thomas Morley (3:08)
Javeh (3:25)
A Fantasy By Laurencini Of Rome (3:22)
Lammy (14:05)
CD 4 - 1976 - Jan Akkerman & Kaz Lux - Eli + Transparental:
Eli (1976) [38:21]

Eli (4:24)
Guardian Angel (4:54)
Tranquillizer (4:15)
Can't Fake a Good Time (5:20)
There He Still Goes (3:43)
Strindberg (3:07)
Wings of Strings (3:17)
Naked Actress (5:43)
Fairytale (3:50)
Transparental (1980) [39:58]
Inspiration (6:08)
Apocalypso (6:15)
Concentrate, Don't Hesitate (6:43)
Transparental (1:12)
I Don't Take It Much Longer (3:52)
Marscha (5:03)
You're Not the Type (5:57)
The Party Is Over (4:28)
CD 5 - 1977 - Jan Akkerman:

Crackers (4:18)
Angel Watch (9:50)
Pavane (5:31)
Streetwalker (6:59)
Skydancer (5:12)
Floatin' (5:13)
Gate To Europe (3:01)
CD 6 - 1977 - Tony Scott feat. Jan Akkerman - Prism:

Silmarillion (12:00)
The Offering (11:02)
Blues Blues and Then Some More Blues (11:05)
Under the Bo Tree (12:02)
CD 7 - 1978 - Jan Akkerman & Claus Ogerman - Aranjuez:

Adagio from "Concierto de Aranjuez" (Joaquin Rodrigo) (5:55)
Nightwings (Claus Ogerman) (4:50)
Modinha (Heitor Villa-Lobos) (5:34)
Espanoleta (Gaspar Sanz) (5:05)
Pavane Pour Une Infante Defunte (Maurice Ravel) (6:46)
Love Remembered (Jan Akkerman) (3:35)
The Seed of God (from "Magdalena") (Heitor Villa-Lobos) (5:39)
Bachianas Brasileiras No.5 (Heitor Villa-Lobos) (5:47)
CD 8 - 1978 - Live:

Transitory (2:07)
Skydancer (8:35)
Pavane (7:15)
Crackers (6:50)
Tommy (3:36)
Azimuth (6:09)
CD 9 - 1979 - Jan Akkerman 3:

Stingray (Get Up With That) (4:49)
Wait And See (4:58)
She's So Divine (3:50)
Funk Me (6:56)
This Is The One (6:01)
Nightprayer (5:46)
Time Out Of Mind (1:20)
CD 10 - 1981 - Oil In The Family:

Oil In The Family (6:23)
Formula N-one (9:38)
Disc-O-Asis (7:05)
No Doubt About It (5:42)
Family Reprise (1:04)
Blue In The Shadow (3:56)
CD 11 - 1982 - Pleasure Point:

Valdez (4:14)
Heavy Pleasure (8:41)
Cool In The Shadow (6:00)
Visions Of Blue (9:42)
C.S. (3:54)
Bird Island (7:02)
Bonus Tracks:
Atlantean Dew (5:00)
Laurie's Dance (1:34)
Angel Blue (2:41)
Halfway (3:59)
35 Seconds (0:35)
Waterfalls Of Eden (0:58)
Desiderata (1:47)
Terra Pax?! (1:06)
Guilty By Association (0:32)
Communion & Procession (2:15)
Near Odessa (1:13)
Anne Mia (2:58)
CD 12 - 1982 - It Could Happen To You:

Old Tennis Shoes (11:30)
Come Closer (7:50)
Funkology (11:50) :

It Could Happen To You (Free Together) (5:25)
CD 13 - 1983 - Can't Stand Noise:
1. Piétons (7:57)
2. Everything Must Change (6:25)
3. Back To The Factory (7:50)
4. Journey (A Real Elegant Gypsy) (4:29)
5. Heavy Treasure (8:53)
6. Just Because (5:35)
Bonus Tracks (1994):
7. Crackers (Live) (9:36)
8. Burgers Blues (Intro) (Live) (3:17)
9. Prima Donna (Live) (5:17)
10. Sketches Of Pleasure (Live) (11:10)
CD 14 - 1984 - From The Basement:

Headbanger (6:26)
All Along The Watchtower (14:10)
Dark Rose (2:52)
Wallenberg (dedicated To Raoul Wallenberg) (6:08)
From The Basement (8:25)
P.C.B. Chicken (6:34)
Status Quo (2:35)
Bonus Tracks (1998):
'The Love Is Uneven Suite' :
She Let Me Do What I Want (0:39)
Blues From The Tews (0:46)
Cherubim & Sepharim (1:49)
She Can't Say Don't (3:01)
Took Her To Locronan (0:40)
Then Rollright Stones (The Tewes) (6:56)
-
No More Parking (2:45)
When I Was A Cocktail In A Waitress Bar (4:30)
Ellington's Way (3:26)
CD 15 - 1987 - Heartware:

My Pleasure (8:55)
Just Because, So! (5:01)
Lost & Found (7:01)
Heartware (6:51)
Winterborn, Lyric (5:07)
Lonely Street Of Dreams (5:50)
Firenze (2:56)
Bonus Tracks (1998):
Apollo's Mask (0:50)
Dancing In Chains (It's Not An S.M. Act But An Old Greek Proverb About) (4:48)
Dompteuse Du Serpent (French For Hooker) (0:33)
Fire From Heaven (3:00)
Almost Dawn (5:13)
Agony And Ecstasy (6:02)
Akkermani (1:40)
Luxemburger (4:20)
CD 16 - 1990 - The Noise of Art:

Trojan Horse (3:53)
You Can't Keep A Bad Man Up (3:06)
Bonnaville (4:32)
Shame On You (6:44)
Prelude: Friends Always (5:19)
Prima Donna (5:26)
Having Fun (3:54)
Akkerman's Sombrero (7:09)
My Pleasure (6:45)
Quiet Storm (2:41)
CD 17 - 1993 - Puccini's Cafe:

Burger's Blues (4:28)
Your Eyes In The Whiskey (6:31)
Spanish Roads (2:06)
Key To The Highway (5:37)
It Comes And Goes (2:55)
Albatross (4:26)
Blue Train (6:21)
Love Is Uneven (8:56)
Puccini's Cafe (5:45)
CD 18 - 1994 - Blues Hearts:

Wake Up! (3:23)
Blues Route '94 (5:46)
Milestones (7:06)
Red Pool House Blues (3:02)
No Gossip (3:45)
Virgin Mary (5:16)
Traffic Jam (3:38)
Mercy, Mercy, Mercy (7:36)
Soft Focus (4:35)
CD 19 - 1996 - Focus In Time:
Home Voyage :

Intro (1:59)
Where Would I Be (3:22)
I'll Make It Up To You (1:58)
Extro (0:52)
-
Saudade (5:22)
Nail The Snake (3:38)
Aprés Un Rêve (3:53)
Am I Losing You (5:24)
Wildflower (3:56)
On The Table (3:27)
Elegy (4:54)
Laurie Anne (2:11)
Leading Me There (3:22)
I'll Find My Own Way Home (2:34)
CD 20-21 - 1997 - 10.000 Clowns On a Rainy Day:
CD 1:

Intro (10,000 clowns on a rainy day) (4:57)
Puccini's Cafe (6:29)
Skydancer (8:20)
Eruptions (12:09)


- Orpheo

Questions Answers
Distant Drums
Puppilla
Tommy
Answers Questions
The new bridge
Orpheo

Focus 2 (4:46)
Pre Madonna (6:04)
Virgin Mary (6:19)
Soft Focus (4:11)
Pedestrians (10:13)


Miss En Scene
Nico's Delight
J's 2000 Flight

No hang ups (6:52)
CD 2:

On the table (17:32)


- Sylvia

Under the table
Spanish wood
Antonio (drum solo)
Leaving the Church before singin
Manual (bass solo)
On the table
Sylvia's Grandmother

Am I losing you (6:36)
Wake up (3:52)
Focus 3 (6:21)
Weedstalker (9:36)
Akkerstones (8:01)
Pool house (6:53)
Quiet storm (2:37)
CD 22 - 1999 - Passion:

Suite 1 (12:21)


David's Harp Song
Wildflower
Across The Bridge
In Amorata
Always
David's Harp

Suite 2 (10:56)


Monkey
Sweethearts
Close Enough
Central Park
Ab-So-Rocking-Lutely
D.Jan.Go
Mary

Mon Amour (3:10)
Tranquiliizer (5:54)
Classic Gaz / Gate to Europe (4:19)
Fellini's Restaurant (3:37)
Passion (1:27)
Countess of Pembrooks Paradise (1:55)
Muy Linda (2:13)
The Knight of the Lute (4:11)
Whispering / Liebestraum (2:44)
CD 23 - 2003 - C.U:

See You (7:59)
In Between The Sheets (6:19)
I'm In The Mood (5:43)
Dance The Blues Away (5:56)
Cottonbay (10:07)
Kloenk (5:57)
Blowing (4:47)
Slow Man (6:31)
Urbanstring (4:54)
CD 24 - 2011 - Minor Details:

Free Wheeling (4:30)
Big Sir (4:01)
Dinner Time (4:46)
Love Train (5:14)
Blind Baby (6:27)
Minor Details (8:03)
Joy (8:55)
Fernando's Minibar (5:09)
Kharmah Chantalah (5:02)
Searching For Angela (5:47)
As Long As You're Near (4:42)
San Frisky (4:27)
The Arrogant Frogs (5:30)
Mena Muria (3:59)
CD 25 - 2018 - My Focus:
Johnny And His Cellar Rockers

Exodus (2:08)
Melody in F Rock (2:46)
The Hunters
Russian Spy And I (2:40)
Brainbox
Down Man (2:37)
Summertime (4:22)
Focus
House of the King (2:21)
Le Clochard (2:00)
Answers? Questions! Questions? Answers! (13:57)
Love Remembered (2:49)
Elspeth of Nottingham (2:58)
Hocus Pocus (Live) (8:06)
Out of Vesuvius (5:49)
Hamburger Concerto (20:18)
CD 26 - 2018 - Akkerarchives:

Crackers [demo] (5:42)
Angel Watch [demo] (11:21)
Azimuth [demo] (9:20)
Stingray (Get Up with That) [demo] (6:35)
A Family in the Oil (3:14)
Come Closer [demo] (6:33)
General Buckshot & The Blues Waffe (4:06)
Yoyo Working (3:08)
Song for the Millennium (3:24)
Plaisir D'amour (5:09)
Anonymous 4 Blues (6:49)
She's Gone (3:07)
Payin' for It Now (10:13)