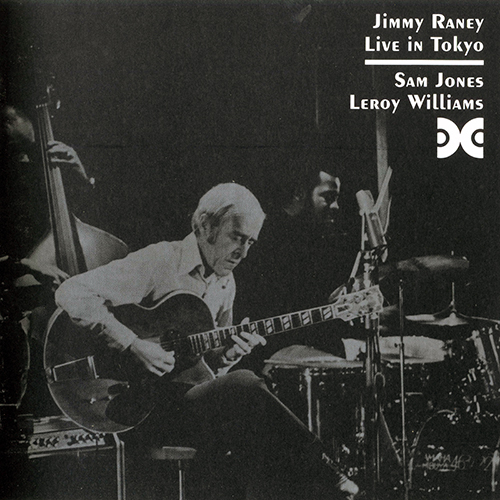 Artist:
Jimmy Raney
Album:
Live In Tokyo
Genre:
Bop, Cool
Label:
Xanadu Master Edition/Elemental Music
Released:
1976/2016
Quality:
FLAC (tracks+.cue)
Tracklist:
Just Friends (4:20)
How About You? (5:20)
Darn That Dream (4:59)
Anthropology (4:03)
Watch What Happens (3:39)
Autumn Leaves (4:12)
Stella By Starlight (3:44)
Here's That Rainy Day (5:58)
Cherokee (5:14)
DOWNLOAD FROM FILECAT.NET >>>
Personnel:

Jimmy Raney - guitar
Sam Jones - bass
Leroy Williams - drums
On the 1976 Silver Session Tour of Japan, Barry Harris played the first set with Sam Jones (bass) and Leroy Williams (drums), then 'the world's greatest Jazz guitarist' (according to Don Schlitten) Jimmy Raney took Harris's spot and played a stellar trio set of his own with Jones and Williams. This deluxe CD includes a 16- page book with original liner notes essay by producer Don Schlitten plus extra photos and session notes, and a new essay by jazz journalist Bill Milkowski who notes: 'His obituary in the New York Times called him one of the most gifted and influential postwar jazz guitarists in the world. Those gifts are on full display on Live in Tokyo'. First US reissue since the original 1976 LP release.
Conventional wisdom posits the '70s as a comparatively difficult decade for jazz. The commercial ascendancy of fusion and what is now considered classic rock monopolized market shares that were the previous province of the genre. Musicians versed in earlier forms of the idiom found themselves sidelined and ignored in favor of the newfangled sounds. At least that was the prevailing situation stateside. Japan, on the other hand, was a veritable safe harbor with thousands of aficionados amongst the populace who brought a Beatles-worthy zeal to their fandom for jazz. This disparity explains in part guitarist Jimmy Raney's enthusiasm toward the proceedings on Live in Tokyo, a document of his 1976 visit to the island-country as part of a package tour for the Xanadu label.
The disc contains selections from two concert hall dates in the company of his working trio of the time with bassist Sam Jones and drummer Leroy Willams and opens with an investigation of "Just Friends" not present on the original LP release. Eight more standards follow, each falling within the economical time span of four to five minutes. Raney was a skilled composer, but the reliance on standards seems another gesture catering to his ardent audience as well as a means of ensuring a level of creature comfort for his sidemen. Jones and Williams balance their support roles with a willingness to capitalize on the occasional solo opportunities built into the relaxed and frequently swinging arrangements.
Pushing fifty at the time, Raney had already been a professional musician for more than half his life. His intimate familiarity with the American Songbook accrued over that span is evident from the outset, clean and populous single-note runs routinely taking flight after functional forays through grounding melody. Jones' strings are flexible and sturdy, responding to tempo fluctuations with fluidity that belies the relative girth and weight of his instrument. Williams spends as much if not more time on brushes as he does on sticks, sculpting beats that complement the steady stride of Jones' fingers and the deft plectral strokes of Raney. "How About You" embodies a case study in the prevailing simpatico as the leader hands the reins to Jones after a statement steeped in mellifluous curlicues while Willliams keeps a porous rhythm on high hat and gently brushed snare drum.
A snapshot portrait of Raney on the back tray-card, eyes-closed with a wistful visage reflecting a moment deep in a personal groove is apposite visual corollary to the up-tempo renderings of "Anthropology" and "Cherokee". Both Charlie Parker chestnuts bring to bear Raney's bop roots and the trio handles each with audible acuity and aplomb. His agile octave insertions on the latter and a string of sprightly exchanges with Williams on the former combine velocity with a shared clarity of vision. A solo sortie through "Stella By Starlight" serves as the sets quiet apogee as Raney wrings the most out of the nocturnal melody in a series of delicate derivations that also accentuate the pleasures in his judicious use of amplification. Fifteen more years of recording and performance lay ahead, but this relaxed and restorative pair of performances celebrates him at peak later-career powers.