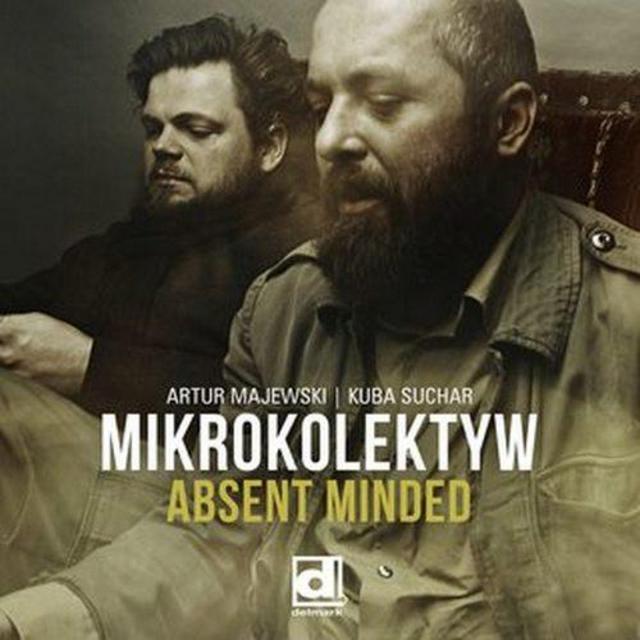 Artist:
Mikrokolektyw
Album:
Absent Minded
Genre:
Avant-Garde Jazz
Label:
Delmark
Released:
2013
Quality:
FLAC (tracks)
Tracklist:
Vacuum
Dream About Mind Master
Sonar Toy
Thistle Soup
Fossil Stairway
Dream About City Backyards
Trilobite
Trouble Spot
Superconductor
Crazy Idea Of Jakub S.
Little Warrior
No Magic
Dream About The One
DOWNLOAD FROM FILECAT.NET >>>
The Chicago-based duo from Poland Mikrokolektyw (a Polish play on the word "micro collective") only makes music out of thin air, and like a skilled magician pulling a rabbit out of thin air, makes it look so effortless and fluid. Kuba Suchar (drums, electronics) and Artur Majewski (trumpet, cornet, electronics) are masters of electro-acoustic jazz not because they know how to fiddle with knobs or play scales or beats real fast, it's their command of space and soundscapes that makes them stand out in an increasingly crowded field of plugged/unplugged hybrids.
Closest in complexion to hometown peers Chicago Underground Duo, Mikrokolektyw had forged their own path through spacier textures and conciseness in finding one or two compelling ideas to present per song instead of diffusing the impact over too many of them. With very minimal backdrops, much is expressed by the sounds not made as the ones that are, and what sounds are made aren't always part of the melody but are attention-grabbing timbres.
"Dream About Mind Master" sets the template: a small but persistent buzz and Majewski's trumpet used to drone along to it, with notes few and elongated. Suchar doesn't so much drum as he lightly patters for coloring, not rhythm. "Sonar Toy," the closest they come to Chicago Underground Duo perhaps because Majewski plays cornet, compels in how Suchar builds an African beat around the atonal sounds of bells. An industrial hum and the sound of bombs dropping dominates "Fossil Stairway," but the trumpet and drums are playing straight jazz right alongside it. "Dream About City Backyards" is notable for scattered but hushed drumming that works into the electronic tapestry, while "Little Warrior" is constructed around a persistent, circular bongo sample that Suchar accents it with multirhythms.
What's further fascinating is that there are several tracks, "Thistle Soup," "Trilobite," "Crazy Idea of Jakub S.," and "No Magic" that use no perceptible electronics at all but fit comfortably alongside the other songs, because that play the same airy, impressionistic way without the dispersed effects as they do with them. That only goes to show that the circuitry is not used as a crutch to hide behind a lack of inspiration, they're only used to enhance the inventiveness already there.
"Absent minded" isn't a very flattering adjective most of the time, but it is here: by not thinking too much and just playing by instinct, Absent Minded is as much of a sonic pleasure as it is a technical one.