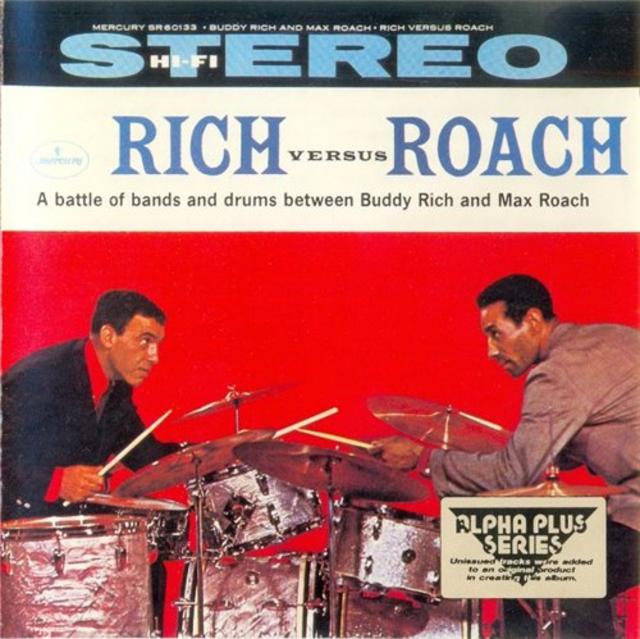 Artist:
Buddy Rich & Max Roach
Album:
Rich Versus Roach
Genre:
Swing
Label:
PolyGram Records
Released:
1959/1986
Quality:
FLAC (tracks+.cue)
Tracklist:
Yesterdays (5:44)
Big Foot (5:03)
Big Foot (alternate take) (5:17)
Limehouse Blues (3:57)
Limehouse Blues (alternate take) (3:47)
Toot, Toot, Tootsie Goodbye (3:57)
Sing, Sing, Sing [Alternate Take] (4:24)
Buddy Rich & Max Roach - Sing, Sing, Sing (4:12)
Buddy Rich & Max Roach - The Casbah (4:31)
The Casbah (alternate take) (5:01)
Sleep (3:21)
Figure Eights (4:33)
DOWNLOAD FROM FILECAT.NET >>>
The idea probably looked good on paper. Why not combine Buddy Rich's Quintet of 1959 (which consisted of altoist Phil Woods, trombonist Willie Dennis, pianist John Bunch and bassist Phil Leshin) with Max Roach's band of the time (consisting of trumpeter Tommy Turrentine, tenor saxophonist Stanley Turrentine, trombonist Julian Priester and bassist Bobby Boswell)? This CD reissues all of the music (including four "new" alternate takes) but the excess of drum solos and the relative brevity of space given to the horns results in a great deal of sameness from track to track. An unexpected bore.
Review by Scott Yanow