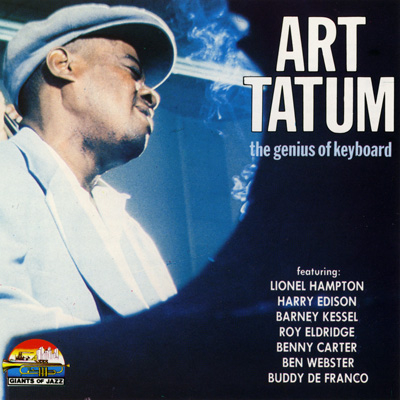 Artist:
Art Tatum
Album:
The Genius Of Keyboard
Genre:
Swing, Piano Jazz
Label:
Giants Of Jazz
Released:
1988
Quality:
FLAC (image+.cue)
Tracklist:
Blue Lou (3:02)
Gone With The Wind (4:46)
A Foggy Day (3:22)
September Song (7:04)
Love For Sale (5:30)
You Took Advantage Of Me (3:37)
Makin' Whoopee (3:33)
Willow Weep For Me (3:45)
Hallelujah (4:53)
Once In A While (5:08)
This Can't Be Love (3:51)
All The Things You Are (7:13)
My Blue Heaven (4:03)
I Cover The Waterfront (4:05)
Somebody Loves Me (7:13)
DOWNLOAD FROM FILECAT.NET >>>
The Genius of Keyboard is the title of a smart little Art Tatum anthology released in 1998 by the Giants of Jazz label. Perhaps unusually for Giants of Jazz, all 15 tracks come from the same source and were recorded within a relatively short span of time (1954-1956). The Genius of Keyboard is really a cousin to The Best of the Pablo Group Masterpieces, which might tell you that everything on this disc was recorded under the supervision of producer Norman Granz, and that Tatum's gifted session mates include trumpeters Roy Eldridge and Harry "Sweets" Edison, saxophonists Benny Carter and Ben Webster, clarinetist Buddy DeFranco, vibraphonist Lionel Hampton and guitarist Barney Kessel. One of the two bassists on this collection is Red Callender, and three of the five drummers are Louie Bellson, Jo Jones and Buddy Rich. If you are wise or lucky enough to hear this great music, and then find yourself digging it deeply and feeling the need to obtain The Complete Pablo Group Masterpieces, do not doubt your instincts. Nor should you resist the inclination to experience the rest of the music recorded at these remarkable sessions near the end of Tatum's all-too-brief lifetime. This is what jazz is all about.
Review by arwulf arwulf