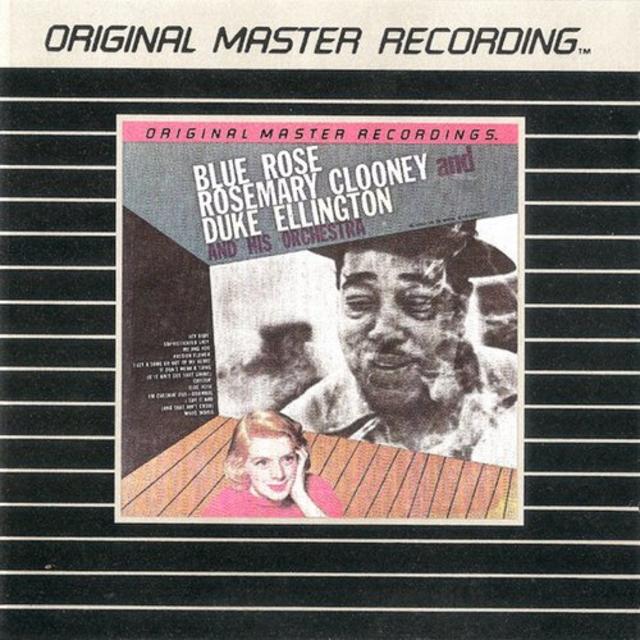 Artist:
Rosemary Clooney & Duke Ellington
Album:
Blue Rose
Genre:
Vocal Jazz
Label:
Mobile Fidelity Sound Lab
Released:
1956/1991
Quality:
FLAC (tracks+.cue)
Tracklist:
Hey Baby (Ellington) - 3:53
Sophisticated Lady (Mills-Parish-Ellington) - 3:02
Me and You (Ellington) - 2:32
Passion Flower (Strayhorn) - 4:36
I Let a Song Go Out of My Heart (Mills-Nemo-Ellington-Redmond) - 2:41
It Don't Mean a Thing (If It Ain't Got That Swing) (Ellington-Mills) - 2:51
Grievin' (Ellington-Strayhorn) - 4:14
Blue Rose (Ellington) - 2:25
I'm Checking Out - Goombye (Ellington-Strayhorn) - 3:14
I Got It Bad (And That Ain't Good) (Ellington-Webster) - 3:11
Mood Indigo (Mills-Bigard-Ellington) - 6:28
DOWNLOAD FROM FILECAT.NET >>>
Personnel:

Rosemary Clooney - vocals
Duke Ellington - piano, leader
Willie Cook, Ray Nance, Clark Terry, "Cat" Anderson - trumpets
Gordon Jackson, Britt Woodman – trombones
John Sanders - valve trombone
Russell Procope - alto saxophone, clarinet
Johnny Hodges - alto saxophone
Jimmy Hamilton - tenor saxophone, clarinet
Paul Gonsalves - tenor saxophone
Harry Carney - baritone saxophone
Jimmy Woode - bass
Sam Woodyard - drums
Rosemary Clooney may have seemed to be a surprising choice to be featured with Duke Ellington & His Orchestra, but this collaboration is extremely successful in spite of the fact that Clooney was unable to join the band in the studio due to complications of a very difficult pregnancy. The solution was for the band to record the music (after Billy Strayhorn made the first of several trips to Los Angeles to consult with her). The results are stunning and not in the least bit canned, due to the professionalism of all parties involved and a stellar engineering of the separately recorded tracks. Clooney swings throughout "Me and You" and "It Don't Mean a Thing" without excess, her wordless vocal on "Blue Rose," and a captivating "Mood Indigo" are among the many highlights. The sound on this Legacy series reissue is greatly improved over the earlier Mobile Fidelity CD, plus there are two tracks added, the obscure but appealing "If You Were in My Place (What Would You Do?)" and "Just a-Sittin' and a-Rockin'," that were only issued as a single and omitted from the original release. It's a pity that the collaboration of Rosemary Clooney and Duke Ellington was only a one-shot deal, as she easily ranks as one of the greatest vocalists to appear on record with the maestro.
Review by Ken Dryden