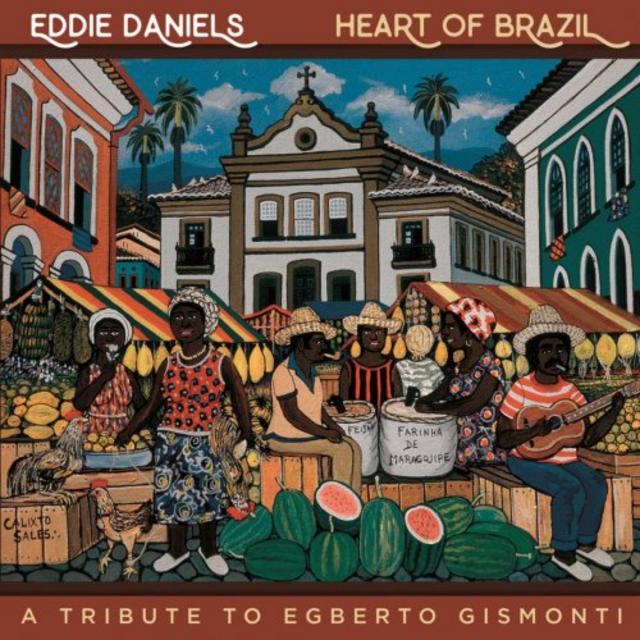 Artist:
Eddie Daniels
Album:
Heart of Brazil: A Tribute to Egberto Gismonti
Genre:
Tango, Bossa Nova
Label:
Resonance Records
Released:
2018
Quality:
FLAC (tracks+.cue)
Tracklist:
Loro (Parrot) (5:08)
Baiao Malandro (Badass Baiao) (5:51)
Agua e Vinho (Water and Wine) (6:08)
Ciranda (Folk Dance) (5:11)
Folia (Revelry) (4:23)
Maracatu (Sacred Rhythm) (5:52)
Adagio (6:00)
Tango Nova (New Tango) (5:46)
Choro (6:02)
Tango (4:40)
Cigana (Gypsy Woman) (String Orchestra) (7:37)
Trem Noturno (Night Train) (7:44)
Auto-Retrato (Self-Portrait) (6:46)
DOWNLOAD FROM FILECAT.NET >>>
Personnel:

Eddie Daniels - clarinet, tenor saxophone
Josh Nelson - piano
Kevin Axt - bass
Mauricio Zottarelli - drums
Harlem Quartet:
Ilmar Gavilan, Melissa White - violin
Jamey Amador - viola
Felix Umansky - cello
When Resonance Records' George Klabin pitched Eddie Daniels on this project saluting Egberto Gismonti, the legendary reedist was enthused yet somewhat trepidatious. Gismonti's music—a sui generis form of fantasia that proves evocative in its blending of Brazilian forms, a jazz harmonist's argot, and European classical languages—is no easy nut to crack or translate. But Daniels, of course, is no slouch. A doyen of the clarinet and an expert at navigating tricky divides like the potentially deadly jazz-classical fault line, he proved more than up to the task.
Heart Of Brazil finds Daniels primarily interpreting music that Gismonti produced in the '70s and early '80s. The settings, put together by the likes of ace arrangers Ted Nash, Kuno Schmid, and Josh Nelson, are ravishing; the core quartet—Daniels, Nelson on piano, Kevin Axt on bass, and Mauricio Zottarelli on drums—sets the music aloft; and the strings of the Harlem Quartet prove absolutely integral, weaving in, out, around, and through these spellbinding songs. Once merely a hypothetical dream project for Klabin, his aspirations have been realized and, perhaps, exceeded.
Opening on "Lôro (Parrot)," a song penned in honor of Hermeto Pascoal, Daniels' clarinet genially bounds around in concert with Nelson's keys while outwardly projecting unbridled virtuosity and warmth. Then the strings introduce "Baião Malandro (Badass Baião)," a number bolstered by Axt's lively bass. It offers Daniels and Nelson some room to open up, all the while nodding to the titular form painted with a variegated scheme.
"Água e Vinho (Water and Wine)" marks the first appearance of Daniels' tenor, emulating the male voice in this most hauntingly beautiful of scenarios. He holds onto that horn for "Ciranda (Folk Dance)," playing on passion over dawning rubato, but he returns to his clarinet when things heat up on the wildly expansive "Folia (Revelry)." That showpiece par excellence—a bold and audacious bricolage with a genius arrangement from Nelson—proves to be a real standout on an album full of them.
As the program progresses, so too does the feasibility of each song offering a world unto itself. "Maracatú (Sacred Rhythm)" draws on its eponymous Afro-Brazilian form and rhythm(s) while offering a melodious high ground and teetering motifs; "Adágio" is impressionism set free on a starlit walkway, influenced by Ravel and unabashedly romantic in its embrace of strings; "Chôro" coasts in with the gentlest of introductions before adopting its namesake style in its breeziest state; and "Cigana (Gypsy Woman)" paints a beautifully pensive picture of the roaming Romany. Every gift from Gismonti proves completely distinctive in nature, and each of these arrangements and performances illuminates the core qualities of his compositions.
As per usual with Resonance, the packaging has its place in the story and comes to also represent the seriousness of intentions behind the project. With an introduction from Klabin, detailed program notes from the esteemed James Gavin, and a translated interview Gavin held with Gismonti in early 2018, the liners amplify the brilliance of this album and the need it fills.
Review by Dan Bilawsky