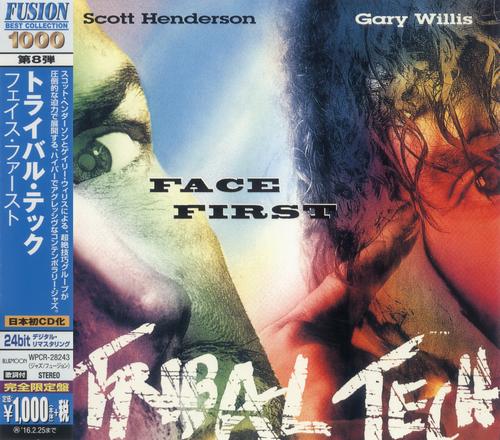 Artist:
Tribal Tech
Album:
Face First
Genre:
Fusion, Jazz-Rock
Label:
Bluemoon/Warner
Released:
1993/2015
Quality:
FLAC (tracks+.cue)
Tracklist:
Face First (Willis) - 7:05
Canine (Willis) - 6:24
After Hours (Kinsey) - 7:23
Revenge Stew (Henderson) - 6:07
Salt Lick (Henderson) - 9:45
Uh ... Yeah OK (Tribal Tech) - 6:44
The Crawling Horror (Henderson) - 7:45
Boiler Room (Covington) - 1:35
Boat Gig (dedicated to Stevie Ray Vaughan and Albert King) (Henderson) - 6:00
The Precipice (Willis) - 6:17
Wounded (dediacted to Bobby G. Willis) (Willis) - 5:40

Personnel:

Scott Henderson - guitar
Gary Willis - bass
Kirk Covington - drums
Scott Kinsey - keyboards
Although it was their sixth album overall, Tribal Tech's 1993 release, Face First, was only the second to feature the still-existing lineup of guitarist Scott Henderson, bassist Gary Willis, keyboardist Scott Kinsey, and drummer Kirk Covington. Previously, Henderson and Willis had juggled lineups and eased further away from traditional jazz toward improvisational fusion through the 1985-1991 albums Spears, Dr. Hee, Nomad, and Tribal Tech. But the quartet of musical leftists gelled on Face First, improving on its promising 1992 debut, Illicit. Henderson's solo on the opening title track -- over a percolating Willis bassline -- shows the guitarist's range of influences from Jeff Beck and Jimi Hendrix to Albert King and Stevie Ray Vaughan. Funk pieces like "Canine" and "Uh...Yeah OK" show glimpses of the group's future, all-improvised CDs; hummingbird-quick drummer Covington's lead vocal on the cover-band farce "Boat Gig" set the stage for Henderson"'s solo blues debut the next year. In between, synth-master Kinsey's jazzy "After Hours" and Henderson's New Orleans-tinged "Revenge Stew" provide thought-provoking rest areas -- necessary because of breathtaking ten-minute thrill rides like the blues, bop, and beyond of "Salt Lick." Willis' Weather Report-like "The Precipice" and "Wounded" ease you to the finish of Face First, the album that made a statement that Henderson, Willis, and company have not yet begun to finish.
Review by Bill Meredith