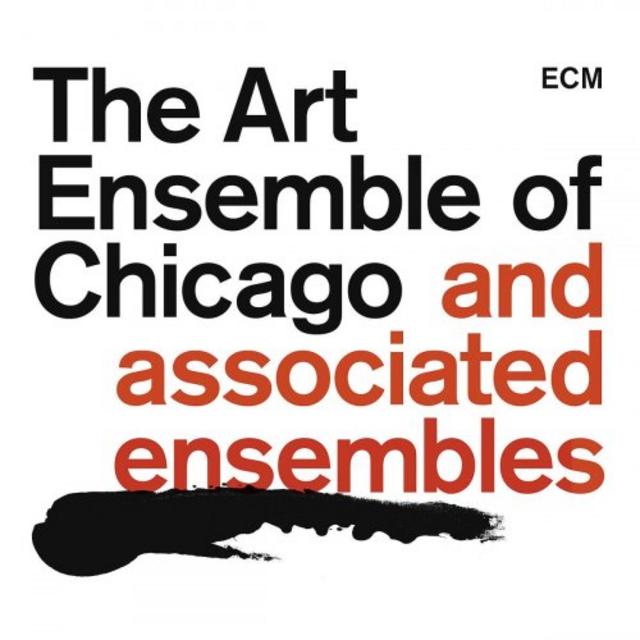 Artist:
The Art Ensemble of Chicago
Album:
The Art Ensemble of Chicago and Associated Ensembles
Genre:
Avant-Garde Jazz
Label:
ECM Records
Released:
2018
Quality:
FLAC (tracks+.cue)
DOWNLOAD FROM FILECAT.NET >>>
Tracklist:
CD 1:
ART ENSEMBLE OF CHICAGO : NICE GUYS

Ja 08:39
Nice Guys 01:41
Folkus 10:59
5 9 7 - 5 9 06:43
Cyp 04:49
Dreaming Of The Master 11:40
CD 2:
ART ENSEMBLE OF CHICAGO : FULL FORCE

Magg Zelma 19:50
Care Free 00:46
Charlie M 09:17
Old Time Southside Street Dance 05:11
Full Force
CD 3:
ART ENSEMBLE OF CHICAGO : URBAN BUSHMEN

Promenade: Cote Bamako I 04:11
Bush Magic 05:05
Urban Magic: March / Warm Night Blues Stroll / Down the Walkway / RM Express 15:39
Sun Precondition Two / Theme For Sco: Soweto Messenger / Bushman Triumphant / Entering the City / Announcement of Victory 21:53
CD 4:

New York Is Full Of Lonely People 07:37
Ancestral Meditation 06:56
Uncle 17:29
Peter And Judith 02:39
Promenade: Cote Bamako II 05:57
Odwalla/Theme 05:14
CD 5:
ART ENSEMBLE OF CHICAGO : THE THIRD DECADE

Prayer For Jimbo Kwesi 09:47
Funky AECO 07:39
Walking In The Moonlight 04:07
The Bell Piece 06:02
Zero 05:55
Third Decade 08:19
CD 6:
LEO SMITH : DIVINE LOVE

Divine Love 21:47
Tastalun (dedicated to Lester Bowie) 06:39
Spirituals: The Language Of Love 15:28
CD 7:
LESTER BOWIE : THE GREAT PRETENDER

The Great Pretender 16:50
It's Howdy Doody Time 02:07
When The Doom (Moon) Comes Over The Mountain: a) Doom? b) When The Moon Comes Over The Mountain 03:38
Rios Negros 07:15
Rose Drop 07:25
Oh, How The Ghost Sings 05:50
CD 8:
LESTER BOWIE : ALL THE MAGIC!

For Louie 12:14
Spacehead 06:47
Ghosts 03:09
All The Magic!/Everything Must Change/T. Jam Blues 15:51
Let The Good Times Roll 06:47
CD 9:

Organic Echo 03:18
Dunce Dance 02:05
Charlie M. (Part II) 02:51
Thirsty? 03:31
Almost Christmas 04:52
Down Home 02:40
Okra Influence 04:39
Miles Davis Meets Donald Duck 01:38
Deb Deb's Face 02:05
Monkey Waltz 01:35
Fradulent Fanfare 01:01
Organic Echo (Part II) 05:31
CD 10:
LESTER BOWIE'S BRASS FANTASY : I ONLY HAVE EYES FOR YOU

I Only Have Eyes For You 10:26
Think 01:35
Lament 13:47
Coming Back, Jamaica 05:14
Nonet 14:25
When The Spirit Returns 07:44
CD 11:
LESTER BOWIE'S BRASS FANTASY : AVANT POP

The Emperor 10:09
Saving All My Love For You 05:06
B Funk 03:48
Blueberry Hill 05:24
Crazy 05:23
Macho (Dedicated To Machito) 06:16
No Shit 05:11
Oh, What A Night 05:33
CD 12:
ART ENSEMBLE OF CHICAGO : TRIBUTE TO LESTER

Sangaredi 07:42
Suite for Lester 05:22
Zero / Alternate Line 09:16
Tutankhamun 08:10
As Clear as the Sun 12:41
He Speaks to Me Often in Dreams 13:52
CD 13:
ROSCOE MITCHELL : NINE TO GET READY

Leola 09:35
Dream And Response 05:35
For Lester B 06:07
Jamaican Farewell 05:45
Hop Hip Bip Bir Rip 05:59
Nine To Get Ready 03:52
Bessie Harris 06:47
Fallen Heroes 06:33
Move Toward The Light 03:24
Big Red Peaches 02:03
CD 14:
ROSCOE MITCHELL, THE TRANSATLANTIC ART ENSEMBLE : COMPOSITION / IMPROVISATION NOS. 1, 2 & 3

I 13:36
II 04:07
III 18:34
IV 05:42
V 03:54
VI 03:17
VII 09:12
VIII 14:48
IX 05:58
CD 15:
EVAN PARKER, THE TRANSATLANTIC ART ENSEMBLE : BOUSTROPHEDON

Overture 01:21
Furrow 1 08:09
Furrow 2 05:46
Furrow 3 11:07
Furrow 4 05:21
Furrow 5 08:20
Furrow 6 12:52
Finale 06:19
CD 16:
ROSCOE MITCHELL, THE NOTE FACTORY : FAR SIDE

Far Side / Cards / Far Side 30:56
Quintet 2007 A For Eight 09:56
Trio Four For Eight 12:37
Ex Flover Five 12:24
CD 17:
ROSCOE MITCHELL : BELLS FOR THE SOUTH SIDE

Spatial Aspects of the Sound 12:14
Panoply 07:36
Prelude to a Rose 12:44
Dancing in the Canyon 10:23
EP 7849 08:13
Bells for the South Side 12:35
CD 18:

Prelude to the Card Game, Cards for Drums, and The Final Hand 16:03
The Last Chord 12:26
Six Gongs and Two Woodblocks 07:50
R509A Twenty B 01:34
Red Moon In The Sky / Odwalla 25:49
CD 19:
JACK DEJOHNETTE, NEW DIRECTIONS : NEW DIRECTIONS

Bayou Fever 08:40
Where Or Wayne 12:25
Dream Stalker 05:55
One Handed Woman 10:49
Silver Hollow 08:24
CD 20:
JACK DEJOHNETTE, NEW DIRECTIONS : IN EUROPE

Salsa For Eddie G. 16:05
Where Or Wayne 12:29
Bayou Fever 18:24
Multo Spiliagio 09:33
CD 21:
JACK DEJOHNETTE, MUHAL RICHARD ABRAMS, LARRY GRAY, ROSCOE MITCHELL, HENRY THREADGILL : MADE IN CHICAGO

Chant 16:56
Jack 5 14:53
This 12:13
Museum of Time 13:37
Leave Don't Go Away 10:19
Announcement 03:28
Ten Minutes 06:09
DOWNLOAD FROM FILECAT.NET >>>
In his brief liner essay introducing this amazing 21-disc retrospective, ECM founder Manfred Eicher states that he wanted to work with the Art Ensemble of Chicago after hearing late-'60s recordings by its members and witnessing their legendary performances in Paris during the era -- which resulted in 15 recordings for various labels. Eicher didn't get his chance for nearly a decade, but the relationship between label, band, and colleagues continues. The release of this mammoth retrospective finds the label and the musicians celebrating precursors to their respective 50th anniversaries. The AEC, an outgrowth of the South Side's Association for the Advancement of Creative Musicians have always been great architects of space (check the AEC's own collective debut, People in Sorrow). They took on the intense challenges put forth by Coltrane, Coleman and Taylor and used sound itself as a means to, and process of, investigation. ECM's has also been ready to engage space whenever possible: Their motto is "the Most Beautiful Sound Next to Silence."
While the quintet (Roscoe Mitchell, Lester Bowie, Joseph Jarman, Famoudou Don Moye, and Malachi Favors Maghostut) only recorded four albums for ECM, their circle of influence continues to spiral out. These albums -- Nice Guys, 1979; Full Force, 1980; Urban Bushmen, 1982; and The Third Decade, 1984, represent, by most accounts, their finest, most enduring work. Bowie signed his own contract with ECM during the period and released four solo albums. The first two, The Great Pretender (1981) and the double All the Magic! (1983) juxtaposed high-wire improvised music with the trumpeter's deep love for pop and R&B. The second pair showcased his ten-piece Brass Fantasy group that included Craig Harris, Steve Turre, and Bob Stewart. The box also contains a fifth AEC disc, the tender, beautiful, and warm Tribute to Lester, issued in 2003, four years after Bowie's death, and played by a trio -- Jarman was studying to become a Buddhist priest and ultimately retired
So what of the rest? Eicher and his assistants have assembled the AEC's extended reach through three albums by Jack DeJohnette's New Directions (that featured Bowie in the lineup) and Leo Smith's classic Divine Love. An associate of the AACM, he featured the tune "Tastalun" dedicated to Bowie with him playing alongside Kenny Wheeler. The drummer's 2015 acclaimed live date Made in Chicago with Mitchell and other AACM luminaries is also included. Finally, three acclaimed Mitchell projects--Nine to Get Ready, Composition/Improvisation Nos. 1, 2 & 3, and 2017's brilliant Bells for the South Side -- are included. The inclusion of Boustrophedon by Evan Parker and the Transatlantic Art Ensemble is here, for which he combined his own Electro-Acoustic Ensemble with Mitchell's quartet. The 200-page book is astonishing, and includes essays by Craig Taborn, George Lewis, and Vijay Iyer, with a lengthy historical appreciation by author Steve Lake. There are dozens of pulled quotes, complete album art, and photographs inside to boot. Sure, this is for AEC completists, but it is also a peerless, necessary addition to paired legacies of the band and label that it will resonate with virtually compelled, collectively created, aesthetically advanced improvised music. Essential!
Review by Thom Jurek