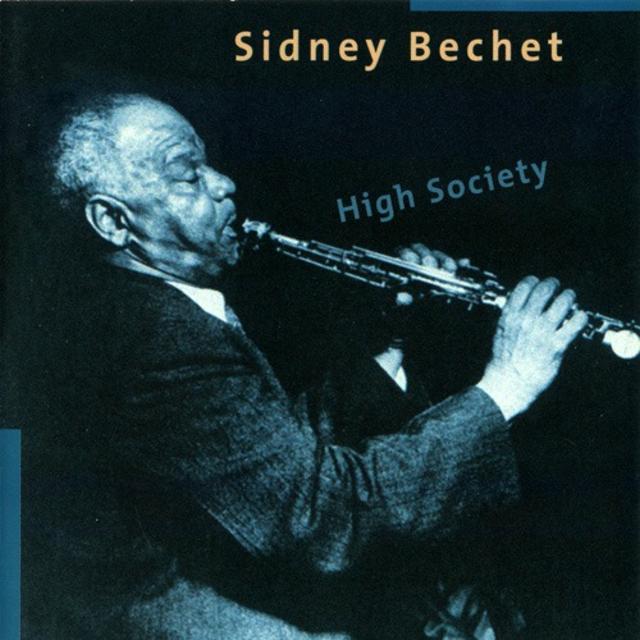 Artist:
Sidney Bechet
Album:
High Society
Genre:
Dixieland, New Orleans Jazz
Label:
Traditional Line
Released:
1955/1998
Quality:
FLAC (image+.cue)
Tracklist:
Presentation (0:39)
Blues In The Air (2:41)
Wild Man Blues (2:33)
Everybody Loves My Baby (4:43)
Wild Cat Rag (3:06)
I Don't Know Where I'm Going (6:16)
Viper Mad (3:27)
Halle Hallelujah (6:39)
Kansas City Man Blues (5:23)
Les Oignons (4:04)
Old Fashioned Love (7:38)
Charleston (3:39)
Swanee River (3:05)
Southern Sunset (3:56)
Ol' Man River (2:53)
High Society (4:09)
Dans Les Rues D'Antibes (3:45)
Panama Rag (6:14)
Royal Garden Blues (3:45)
DOWNLOAD FROM FILECAT.NET >>>
Although it does not state it at all (there are no liner notes to the CD), the music on this set was recorded on Oct. 19, 1955 at a Paris concert. Soprano saxophonist Sidney Bechet, at the height of his fame, performs seven songs apiece with the bands of clarinetists Claude Luter and Andre Reweliotty, and four numbers with their combined combos, before a very enthusiastic audience. Although there are short spots for the clarinetists and a few of their sidemen, Bechet is the dominant force throughout, playing his typical repertoire from the era. Among the hotter selections are "Everybody Loves My Baby," "Wild Cat Rag," "Viper Mad," "Charleston" and "Panama Rag." The music on this worthwhile and often-exciting (and occasionally riotous) CD was formerly put out by the French Vogue label.
Review by Scott Yanow