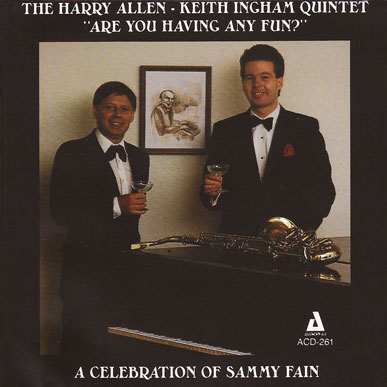 Artist:
The Harry Allen-Keith Ingham Quintet
Album:
Are You Having Any Fun? - A Celebration of Sammy Fain
Genre:
Mainstream Jazz, Cool
Label:
Audiophile Records
Released:
2004
Quality:
FLAC (tracks)
Tracklist:
I Can Dream, Can't I? [4:16]
When I Take My Sugar to Tea [3:21]
Tender Is the Night [4:26]
You Brought a New Kind of Love to Me [3:57]
Here's to You Illusions [3:38]
A High Hat, A Piccolo and a Cane [4:07]
A Very Precious Love [3:43]
That Old Feeling [4:56]
Something I Dreamed Last Night [4:40]
Alice in Wonderland [4:39]
By a Waterfall [4:24]
I Left My Sugar Standing in the Rain [4:30]
Secret Love [2:42]
I Just Can't Do Enough for You, Baby [4:07]
Hummin' to Myself [4:31]
I'll Be Seeing You [3:20]
DOWNLOAD FROM FILECAT.NET >>>
The dueling titles of this fine recording of classic jazz are a good deal more cumbersome than the lyrics of any song co-written with Sammy Fain. That would have to be the only aspect of this 1980 tribute that doesn't live up to its inspiration, a prolific and memorable tunesmith whose induction into the Songwriters Hall of Fame took place a bit less than a decade before this was recorded. Having warmed up their chops on similar projects such as a multi-volume homage to pianist, composer, and Duke Ellington collaborator Billy Strayhorn, second-generation swinger Harry Allen, Jr. and British pianist Keith Ingham hold forth on no less than 17 Fain strains. John Pizzarelli is the superb guitarist, harmonizing with Ingham as if turning the key in a series of small treasure chests. Rounding out the rhythm section, drummer Oliver Jackson proves his affinity for both pianists and saxophonists while bassist Dennis Irwin counts his chord changes like tour revenue. The songs are given compact performances, "Something I Dreamed Last Night" suggesting that only a subject related to sleep would inspire this combo to head toward the five-minute mark on a recorded track. Ingham's career began in Hong Kong, where Tin Pan Alley standards such as the deceptively amorous "Secret Love" and the darkly gentle "Tender Is the Night" were no doubt standard fodder in piano lounges. The saxophonist, son of big-band drummer Harry Allen, Sr., plays the melodies of this program as if familiar with the words, all of them, even the ludicrous "A High Hat, a Piccolo and a Cane" -- perhaps following the advice of one of the great instrumentalists, tenor saxophonist Lester Young.
Review by Eugene Chadbourne