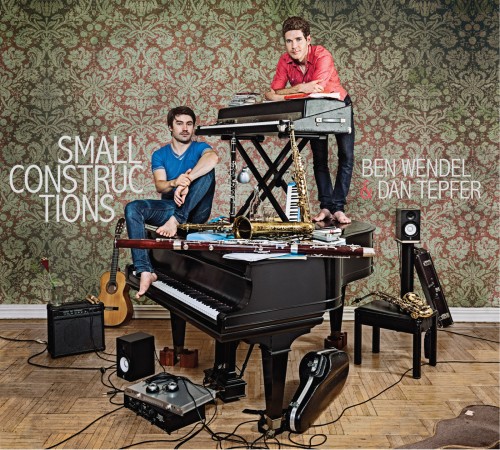 Artist:
Ben Wendel & Dan Tepfer
Album:
Small Constructions
Genre:
Contemporary Jazz, Modern Creative
Label:
Sunnyside Records
Released:
2013
Quality:
FLAC (tracks+.cue)
Tracklist:
Still Play (Wendel)
Pannonica (Monk)
Jean and Renata (Wendel)
Line Up (Tristano)
Line (Wendel)
Nines (Tepfer)
Gratitude (Tepfer)
Ask Me Now (Monk)
Rygabag (Tepfer)
Darn That Dream (Van Heusen / De Lange)
Variation 1 in D minor (Handel)
Oblique Strategy (Tepfer / Wendel)
DOWNLOAD FROM FILECAT.NET >>>
Keyboardist Dan Tepfer and multi-reed player Ben Wendel are lauded jazz artists who have made an album that goes beyond jazz, a set of songs without words that explores and celebrates multiplicity. Small Constructions – to be released by Sunnyside Records on March 12, 2013 – is a multi-tracked, multi-layered production featuring Tepfer and Wendel playing multiple instruments in multiple styles, extending from kaleidoscopic versions of Monk tunes to pieces based on Handel and Messiaen motifs, from a standard given an intimate, artful makeover to originals that underscore the duo's melodic flair. Tepfer, a pianist who has ranged from solo improvisation to duets with sax icon Lee Konitz to variations on Bach, has been called "a player of exceptional poise" by The New York Times, while Downbeat extolled his "ability to disappear into the music as he's making it." Wendel, a founding member of the Grammy-nominated jazz-rock band Kneebody, has also recorded rich, wide-ranging solo albums, with the Los Angeles Times praising him as "a composer with a restless ear."
In his liner notes to the album, Tepfer writes: "We recorded Small Constructions over the course of a few days in the Yamaha artist space in Manhattan, with some of our favorite instruments close at hand: a beautiful piano, a Fender Rhodes, three kinds of saxes, a bassoon and a melodica. It was a DIY affair – we used our own recording gear, and though we were very focused on the music at hand, we didn't worry too much about how it would fit into a specific category or genre. The end result is a set of songs that expresses our mutual love of jazz, classical, pop and more."
Wendel explains the duo's bond: "Dan and I have interesting similarities in our upbringings. We both grew up with opera-singing mothers, and we each started out studying classical music before we got into playing jazz. We have a shared aesthetic sensibility from this, extending from our choice of tunes to the way we improvise together, finishing each other's sentences. I guess you could say that we're kindred musical spirits."
Tepfer breaks down Small Constructions track-by-track:

Still Play is a tune Ben finished writing in the studio, on an upright piano, in another room, while I wrote out the skeleton of the woodwind parts for my tune Gratitude. It's multi-tracked and multi-layered: two layers of piano and one of Rhodes for me; bassoon, melodica and sax for Ben.
Pannonica and Ask Me Now are classics by Thelonious Monk. Playing Monk feels a lot like playing Bach: you just can't imagine either composer choosing a single note differently.
Jean and Renata is a beautiful song that Ben wrote for two dear friends of his from Paris. We did a few unsuccessful takes of this until Ben pointed out to me that the song didn't need to go anywhere — it could just stay where it started.
Line Up is our tribute to Lennie Tristano. Although he forcefully denied it at the time, Lennie recorded the original Line Up — a masterpiece of sinewy chromatic lines winding their way through the harmony to the jazz standard All of Me — at half-speed, an octave down, then sped it up to yield the result, an octave up and twice as fast. I thought it'd be interesting to take this a step further: play his original solo in unison, in real time, and interrupt it with improvisations recorded the same way he made the original: an octave down, at half-speed. Hence the strange sound of the piano and sax at these moments. It's a meta-Line Up, if you will. The coda was improvised by Ben, then harmonized by me; it feels like a point of arrival.
Line is a short melody by Ben. I play it in one hand on the piano and he joins in on melodica, like a phantom.
Nines is a tune I wrote a few years ago, a motor-rhythm piece that we particularly enjoy playing live. It uses a nine-note scale that composer Olivier Messiaen made great use of half a century ago.
Gratitude I originally wrote for Gary Peacock, a musician I deeply admire, after he told me that one of the chief emotions he feels when he makes music, at his age, is the simple gratitude that he can still play. We recorded a performance of the tune as a duo, in one pass, then Ben overlayed two bassoons, two altos, two tenors, and a stray, forlorn melodica.
Rygabag is a tune I wrote shortly before we recorded. It distantly references Miles Davis' recording of Bags' Groove.
Darn That Dream is a single pass through the melody, one of my favorites in the American Songbook, recast with harmony from a bittersweet, conflicted other realm: darn that dream, but bless it too.
Variation 1 in D minor was an idea of Ben's: he recorded bassoon and three saxes, picking notes from a short 4-part variation by Handel, and I swooped in afterwards and played over it, reacting as I went.
Oblique Strategy is a switch-up: at the end of one of our nights in the studio, Ben sat down at the piano, I picked up my alto sax, we hit the record button and improvised. We realized afterwards that the simplicity of the music, which comes from our respectively limited chops on our borrowed instruments, felt special to us: we never would have come up with something this straightforward and childlike on the instruments that we're "good" at.