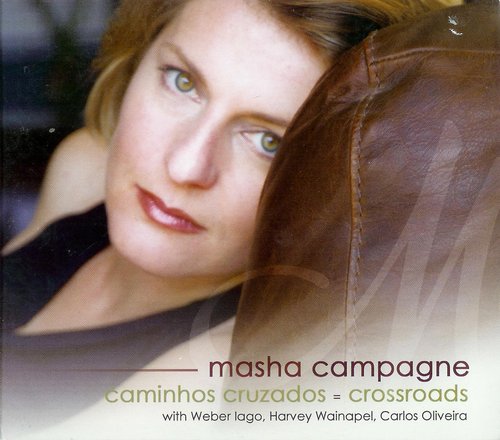 Artist:
Masha Campagne
Album:
Caminhos Cruzados = Crossroads
Genre:
Vocal Jazz, Bossa Nova
Label:
Impetus Records
Released:
2007
Quality:
FLAC (image+.cue)
Tracklist:
Romance/Alem das Nuvens (Djavan-Iago) - 6:00
So in Love (Porter) - 5:39
Doralice (Caymmi) - 3:24
Jobim Medley: So Tinha de Ser Com Voce (Jobim-Oliveira)/Caminhos Cruzados (Jobim-Mendonca)/Samba do Aviao (Jobim) - 9:26
Pra Quem Quiser Me Visitar (Guinga-Blanc) - 5:35
O Coco do Coco (Guinga-Blanc) - 4:00
It Might as Well Be Spring (Rodgers-Hammerstein) - 4:21
Faltando um Pedaco (Djavan) - 6:13
DOWNLOAD FROM FILECAT.NET >>>
Personnel:

Masha Campagne - vocals
Weber Iago - piano
Harvey Wainapel - saxophones
Carlos Oliviera - acoustic guitar
Dan Robbins - bass
Michael Spiro - percussion
Paul van Wageninger, Phil Thompson - drums
David Belove - electric bass
Rich Kuhns - accordion
String quartet:
Jessica Poll - 1st violin
John Fairweather - 2nd violin
Darcy Rindt - viola
Joanna Blendulf - cello
An intriguing album from Russian-born, Brazilian-based artist Masha Campagne, Caminhos Cruzados takes its name from an old Tom Jobim number, and expresses relatively well the sense of the album. While Campagne professes her love for Brazilian music, and the liner notes wax poetic about her natural way with it, there's always an element of exoticism, or foreignness beyond the Brazilian, in her songs. The songs themselves come largely from the pantheon of Brazilian composers, old and new -- Jobim, Gilberto, Djavan, as well as bits from American jazz. At the same time, Campagne's accent ranges from nonexistent to a lush Brazilian flavor to a full-blooded Russian (in particular, "O Coco Do Coco" shows off an accent that colors the whole song as a lounge act). Despite the roving accent. though, Campagne has a very nice voice, plowing through the quicker numbers with ease and grace, and only getting caught up a bit in the flatter portions of the slower songs (the Djavan numbers at the beginning and end primarily). Accompanying her throughout is pianist Weber Iago, who has a nice sensitive touch to his playing, with a fair bit of ringing to his sound. The instrumental interludes can start to sound a little bit department-store-like, but between Iago's accompaniment abilities (which are substantial) and Campagne's strong vocals, the album is a nice little surprise in Brazilian music, not sheerly mimicking the classics and not going too far into the realm of the unrecognizable. A fairly good debut from the cross-cultural songstress.
Review by Adam Greenberg