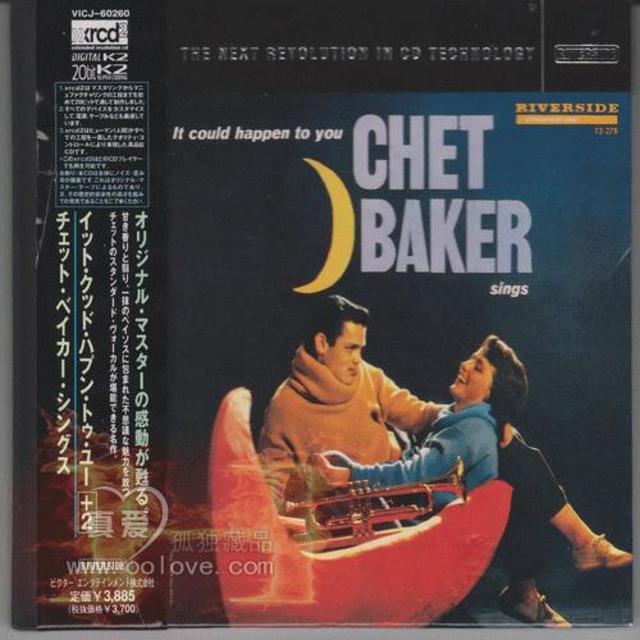 Artist:
Chet Baker
Album:
Chet Baker Sings: It Could Happen to You
Genre:
Cool, Vocal Jazz
Label:
Riverside Records
Released:
1958/2001
Quality:
FLAC (tracks+.cue)
Tracklist:
Do It the Hard Way (Rodgers-Hart) - 3:04
I'm Old Fashioned (Mercer-Kern) - 5:07
You're Driving Me Crazy (Donaldson) - 2:57
It Could Happen to You (Burke-Van Heusen) - 2:54
My Heart Stood Still (Rodgers-Hart) - 3:29
The More I See You (Gordon-Warren) - 3:06
Everything Happens to Me (Dennis-Adair) - 5:07
Dancing on the Ceiling (Rodgers-Hart) - 3:10
How Long Has This Been Going On? (Gershwin-Gershwin) - 4:11
Old Devil Moon (Harburg-Lane) - 3:00
While My Lady Sleeps (take 10) (Kahn-Kaper) - 4:23
You Make Me Feel So Young (take 5) (Myrow-Gordon) - 3:39
DOWNLOAD FROM FILECAT.NET >>>
Personnel:

Chet Baker - trumpet, vocals
Kenny Drew - piano
George Morrow, Sam Jones - bass
Philly Joe Jones, Danny Richmond - drums
The ultra-hip and sophisticated "cool jazz" that Chet Baker (trumpet/vocals) helped define in the early '50s matured rapidly under the tutelage of producer Dick Bock. This can be traced to Baker's earliest sides on Bock's L.A.-based Pacific Jazz label. This album is the result of Baker's first sessions for the independent Riverside label. The Chet Baker Quartet featured on Chet Baker Sings: It Could Happen to You includes Kenny Drew (piano), Sam Jones (bass), and Philly Joe Jones (drums). (Performances by bassist George Morrow and drummer Dannie Richmond are featured on a few cuts.) This results in the successful combination of Baker's fluid and nonchalant West Coast delivery with the tight swinging accuracy of drummer Jones and pianist Drew. Nowhere is this balance better displayed than the opening and closing sides on the original album, "Do It the Hard Way" and "Old Devil Moon," respectively. One immediate distinction between these vocal sides and those recorded earlier in the decade for Pacific Jazz is the lissome quality of Baker's playing and, most notably, his increased capacity as a vocalist. The brilliant song selection certainly doesn't hurt either. This is an essential title in Chet Baker's 30-plus year canon. [A 2002 CD reissue contains two bonus tracks, "I'm Old Fashioned" and "While My Lady Sleeps"].
Review by Lindsay Planer