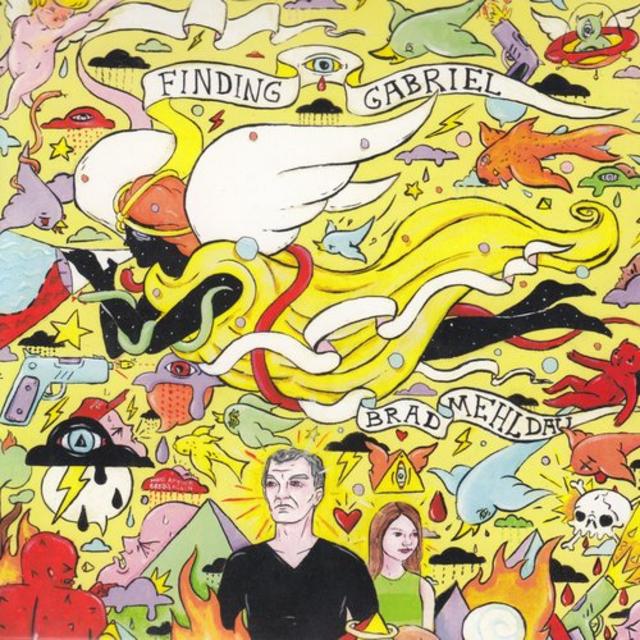 Artist:
Brad Mehldau
Album:
Finding Gabriel
Genre:
Post-Bop, Contemporary Jazz
Label:
Nonesuch Records
Released:
2019
Quality:
FLAC (tracks+.cue)
Tracklist:
The Garden (Mehldau) - 7:18
Born to Trouble (Mehldau) - 4:01
Striving After Wind (Mehldau) - 4:39
O Ephraim (Mehldau) - 5:22
St. Mark Is Howling in the City of Night (Mehldau) - 6:20
The Prophet Is a Fool (Mehldau) - 6:48
Make It All Go Away (Mehldau) - 4:32
Deep Water (Mehldau) - 5:13
Proverb of Ashes (Mehldau) - 4:18
Finding Gabriel (Mehldau) - 7:06
DOWNLOAD FROM FILECAT.NET >>>
Personnel:

Becca Stevens, Gabriel Kahane - voice

Ambrose Akinmusire - trumpet
Michael Thomas - flute, alto saxophone
Charles Pillow - soprano saxophone, alto saxophone, bass clarinet
Joel Frahm - tenor saxophone
Chris Cheek - tenor saxophone, baritone saxophone
Brad Mehldau - OB-6 Polyphonic synthesizer, Therevox, Moog Little Phatty synthesizer, Steinway C grand piano, voice
Mark Guiliana - drums
Brad Mehldau fans should be used to his shapeshifting ways by now. Rightfully acclaimed for his jazz trio recordings, it is the balance of his catalog that delivers a rounded portrait of the musician, from Largo and The Highway Rider to Mehliana: Taming the Dragon, and more. But Finding Gabriel marks his most idiosyncratically expansive release yet. Its thematically linked compositions were inspired by a close reading of Old Testament sources -- Daniel, Hosea, Psalms, Ecclesiastes, and Job -- while considering our current sociopolitical era. He also experimented with the Oberheim OB-6 analog synth while composing, an instrument whose possibilities were new to him. It's used alongside acoustic and electric pianos, organ, xylophone, mores synths, and voice. His celebrated cast of guests includes trumpeter Ambrose Akinmusire, violinist Sara Caswell, saxophonist Joel Frahm, drummer Mark Guiliana, vocalists Becca Stevens, Kurt Elling, and Gabriel Kahane, and small string and horns sections. In addition to ensemble pieces, three tunes are performed by Mehldau as a one-man band.
A repetitive melody on grand piano and analog synth introduces overture "The Garden," with Giuliana's kick drum offering an urgent pulse underneath. Next, Mehldau's, Stevens', and Kahane's voices sing wordlessly, like instruments, before Giuliana executes furious breakbeats and cymbal crashes. Akinmusire's smeared post-bop trumpet bleats are (like Gabriel's horn at the end of time) countered by contrapuntal reeds and winds. "Striving After Wind" is a fusion tune akin to something by Flying Lotus, with sweeping synths, electric pianos, and synthetic drums ballasted by entwined wordless vocals. On the solo "O Ephraim," synths, pianos, and Mehldau's (lovely) wordless singing juxtapose prog rock and jazz. Chiming keyboards introduce "St. Mark Is Howling in the City of Night" with Caswell's violin, funky breaks, and other strings ushering in a rockist frame that morphs into a minimalist piano theme accented by beats and classical strings. "The Prophet Is a Fool" is introduced by the crowd chanting "Build that wall!" in a jarring freeze frame of this historical moment; it's followed by a dialogue that underscores just who the subject is. Frahm delivers a fire-breathing tenor solo, followed by Akinmusire's as junglist rhythms underscore the tune's urgency. "Make It All Go Away" is a pillowy, near-pop melody with Stevens and Elling hovering alongside keys and drums. "Deep Water" is darker, a piece of neo-classical prog with violin and string trio and Mehldau's elliptical piano. Elling takes a killer sonically treated scat vocal on "Proverb of Ashes," with its backing track wedding EDM futurism to post-punk. Mehldau closes the set solo with the title track, a spoken prayer surrounded by angelic voices, shimmering pianism, mellotrons, synths, and percussion instruments concluding with a quote from the prophet Daniel. It will take several listens to appreciate all that takes place on Finding Gabriel, but that's as it should be. Mehldau is scratching an itch; whatever bothers him is provoking action that leads to a strange, ethereal space where the questions and answers of both history and mystery are not only provocative, but interchangeable.
Review by Thom Jurek