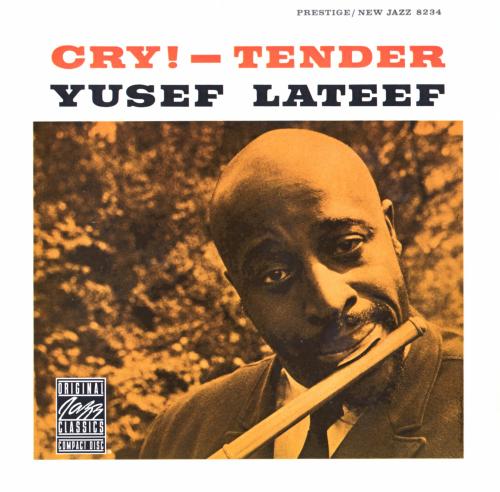 Artist:
Yusef Lateef
Album:
Cry!-Tender
Genre:
Hard Bop, World Fusion
Label:
Prestige/New Jazz/Original Jazz Classics
Released:
1959/1990
Quality:
FLAC (image+.cue)
Tracklist:
Sea Breeze (Hoffman-Manning) - 3:12
Dopolous (Lateef) - 3:18
Cry!-Tender (Lateef) - 6:01
Butter's Blues (Lateef) - 5:45
Yesterdays (Kern-Harbach) - 4:24
The Snow Is Green (Lateef) - 3:13
If You Could See Me Now (Sigman-Dameron) - 4:49
Ecaps (Lateef) - 6:30
DOWNLOAD FROM FILECAT.NET >>>
Personnel:

Yusef Lateef - tenor saxophone, flute, oboe

Lonnie Hillyer - trumpet
Wilbur Harden - flugelhorn (#8)
Hugh Lawson - piano
Herman Wright, Ernie Farrow (#8) - bass
Frank Gant, Oliver Jackson (#8) - drums
In 1959, Yusef Lateef began using the oboe in his recording sessions and on live dates. This album marks that occasion, and is thus a turning point in an amazingly long and varied career. Accompanied by Lonnie Hillyer on trumpet, Hugh Lawson on piano, bassist Herman Wright, and drummer Frank Gant, Lateef was digging deeply into a new lyricism that was Eastern-tinged (the full flavor of that obsession would be issued two years later on Eastern Sounds and had been touched upon two years earlier on Other Sounds, released on New Jazz, where Lateef had used an argol as well as his sax and flute), modally informed, and distinctly light in texture -- with the exception of the deep, dark, arco work at the beginning of "Dopolous," by Wright. Lateef was already moving away from what most people would call jazz by this time, yet, as evidenced here, his music remained challenging and very accessible. This is meditative music with a stunningly rich rhythmic palette for how muted and edgeless it is. And, like John Cage or Morton Feldman, the absence of those edges was written in; it's not random. On tunes like the aforementioned, "Butter's Blues," or even "If You Could See Me Now," Lateef could take the blues and move it into shadowy territory, pulling out of the intervals and changes certain harmonic concepts to turn the music back on itself. If restraint got practiced in the dynamic range, the drama in the music would be all the greater because of the wider harmonic palette -- because it could be heard, not just felt. The result is a seamless, velvety, yet poignant take on the blues that echoed the tears referenced in the title of the album. And yet, the beauty, such a tender beauty, was so unspeakably fragile that the brass and reed instruments seemed to hover over the rhythm section and cut holes in the air like fine razors that can only be praised for the fineness of their slash. This was the beginning of Lateef's change in direction and, as a result, it deserves to be noted for that. However, it needs to be doubly noted for its truly magnificent sound, texture, playing, composition, and choice of tunes.
Review by Thom Jurek