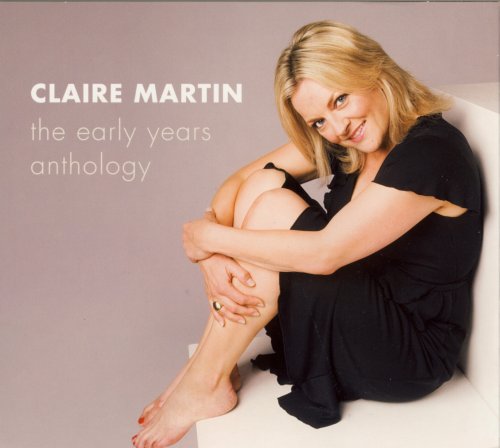 Artist:
Claire Martin
Album:
The Early Years Anthology
Genre:
Vocal Jazz
Label:
Linn Records
Released:
2008
Quality:
FLAC (image+.cue)
Tracklist:
CD1 - The Waiting Game (1992)

You Hit the Spot
Be Cool
This Funny World
Better Than Anything
If You Could See Me Now
Some Cats
The Waiting Game
It's Always Four A.M.
The People That You Never Get to Love
Tight
Everything Happens to Me
The Keys To Your Ferrari
CD2 - Devil May Care (1993)

Devil May Care
Victim of Circumstance
If Love Were All
Devil's Gonna Get You
By Myself
Close Enough for Love
Can't Give Enough
The Sun Was Falling from the Sky
October Thoughts
On Thin Ice
Save Your Love for Me
CD3 - Old Boyfriends (1994)

When the Sun Comes Out
Close as Pages in a Book
Partners in Crime
Chased Out
Moon Ray
Old Boyfriends
Out of My Continental Mind
I've Got News for You
The Wheelers and Dealers
I Was Telling Him About You
Gentleman Friend
Killing Time
CD4 - Make This City Ours (1997)

Make This City Ours Tonight
Gettin' High
Another Night
Bye-Bye Country Boy
No Moon at All
Summer (Estate)
Anyplace I Hang My Hat Is Home
How Deep Is the Ocean?
Empty Bed
Could This Be the One?
Collagen Lips
DOWNLOAD FROM FILECAT.NET >>>
"The Early Years Anthology" showcases Claire Martin's matchless talent and for the first time brings together her acclaimed first four studio albums on Linn Records. This is a four CD collection at budget price in a beautifully presented glossy digipack complete with stunning new artwork.
Linn Records signed Claire Martin in 1991 following a performance at the Glasgow Jazz Festival. It was the start of a special relationship which has seen her develop an international reputation as an artist of the highest calibre, securing five British / BBC Jazz awards along the way.
Martin's arrival on the global jazz scene was explosive and her development, for such a young vocalist, remarkable. Critics and audiences alike were enthused by her fresh approach, imaginative repertoire and stunning live shows, sparking comparisons with Peggy Lee.
Now, twelve albums later, we present a celebration of the early studio recordings. Witness the beginnings of a wonderful career, the work of an inspirational talent and, above all, the voice of a truly great jazz singer.