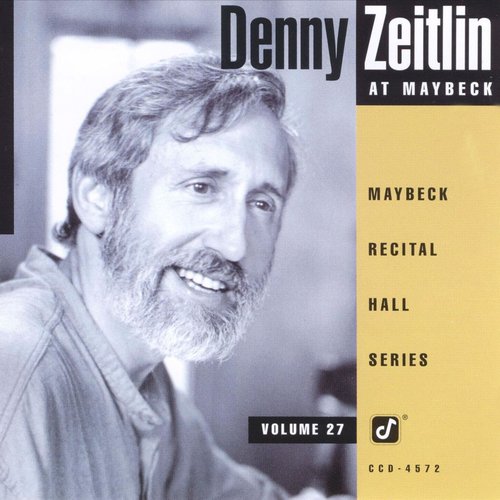 Artist:
Denny Zeitlin
Album:
Live at Maybeck Recital Hall, Vol.27
Genre:
Post-Bop, Hard Bop
Label:
Concord Jazz
Released:
1993
Quality:
FLAC (tracks+.cue)
Tracklist:
Blues on the Side (Zeitlin) - 3:48
The Girl Next Door (Blaine-Martin) - 4:21
My Man's Gone Now (Gershwin-Gershwin-Heyward) - 9:05
Lazy Bird (Coltrane) - 3:01
'Round Midnight (Monk-Williams-Hanighen) - 8:44
Love for Sale (Porter) - 6:23
And Then I Wondered If You Knew (Zeitlin) - 5:11
Country Fair (Zeitlin) - 5:13
Sophisticated Lady (Ellington-Mills-Parish) - 5:09
The End of a Love Affair (Redding) - 4:50
Just Passing By (Zeitlin) - 3:21
What Is This Thing Called Love? (Porter)/Fifth House (Coltrane) - 6:28
DOWNLOAD FROM FILECAT.NET >>>
Although Denny Zeitlin, MD is probably a fine psychiatrist, it is the jazz world's loss that he is not a full-time musician. This live solo performance is one of his greatest triumphs, starting with his infectious opener, "Blues on the Side," which is far too complex to be compared to typical blues. He tackles John Coltrane's "Lazy Bird" at a furious tempo worthy of its composer. Zeitlin's refreshingly deliberate approach to "'Round Midnight" best captures its dark undertones. The pianist's lyrical side is also evident. "Sophisticated Lady" captures the essence of Duke Ellington's landmark work, while "Just Passing By" is a subtle original that conjures images of a brisk stroll at the beginning of autumn. Zeitlin then shifts into high gear for an intense medley of "What Is This Thing Called Love" and "Fifth House" to close with a flourish.
Review by Ken Dryden