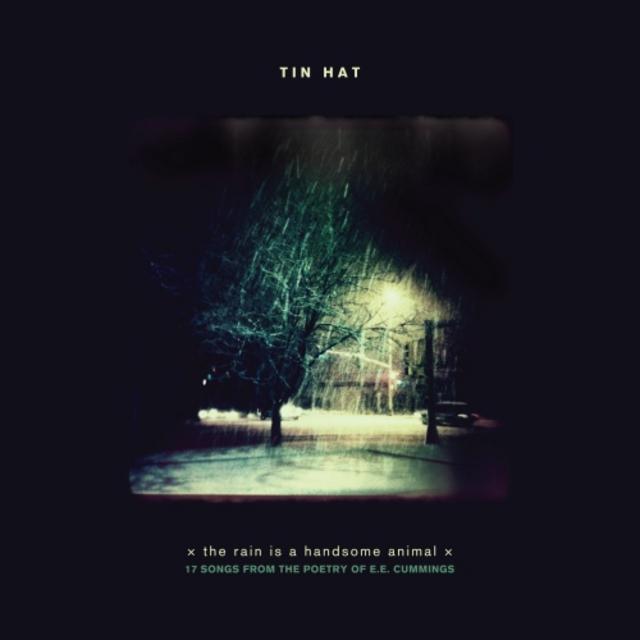 Artist:
Tin Hat
Album:
The Rain is a Handsome Animal
Genre:
Chamber Jazz
Label:
New Amsterdam Records
Released:
2012
Quality:
FLAC (tracks+.cue)
Tracklist:
A cloud on a leaf (dedicated to Yoko Ono) (4:01)
The rain is a handsome animal (4:23)
Sweet spring (4:23)
If up's the word (4:50)
Open his head (2:49)
Unchanging (3:40)
Buffalo Bill (dedicated to Eric Beenfeldt) (3:32)
Enormous room (7:15)
So shy shy shy (1:41)
2 Little whos (dedicated to Nels Cline & Yuka Honda) (4:40)
Yes is a pleasant country (2:46)
Grapefruit (6:09)
Human rind (4:42)
Anyone lived in a pretty how town (4:30)
Diminutive (2:28)
Little I (3:49)
Now (more near ourselves than we) (3:19)
DOWNLOAD FROM FILECAT.NET >>>
Personnel:

Carla Kihlstedt – voice, violins, viola, bass harmonica
Ben Goldberg – clarinet, contra alto clarinet
Rob Reich – accordion, piano
Mark Orton – guitar, dobro, pump organ, prepared piano
Many composers have found inspiration in the work of poets, setting verse to music. For Tin Hat, an ensemble with deep Bay Area roots, the elliptical modernist poetry of e.e. cummings has revealed an entirely new side of a band already known for its vast array of influences.
In its first incarnation as Tin Hat Trio, the band experienced a good deal of internal dissension over whether or not to also showcase violinist Carla Kihlstedt as a vocalist. Founded in 1997 as a stylistically expansive instrumental ensemble, the group wasn't entirely averse to singers. Early albums featured guest appearances by the likes of Tom Waits and Willie Nelson. But the fear was that with Kihlstedt's rock star charisma, unleashing her vocals would knock Tin Hat's delicate balance askew.
Those anxieties weren't entirely misplaced. A 17-song cycle based on the syntax-bending poems of e.e. cummings, "the rain is a handsome animal" (New Amsterdam Records) is Tin Hat's first album of new material in five years, and Kihlstedt's dramatic, profoundly expressive voice often grabs you by the throat.
The album is Tin Hat's latest literary endeavor, following 2007's The Sad Machinery of Spring, a project inspired by the hallucinatory writing of the doomed Polish Jewish artist Bruno Schulz.
"the rain is a handsome animal" features Tin Hat's new lineup, with Kihlstedt and fellow founder, guitarist Mark Orton, Berkeley clarinetist Ben Goldberg and the most recent addition, San Francisco pianist and accordionist Rob Reich. All four musicians contribute compositions, responding with humor, empathy and slippery lyricism to cummings' tricky, idiosyncratic use of language. In Goldberg's hands, the brief poem "2 little whos" feels like a romantic denouement from a Broadway musical that got lost on 52nd Street.
While Kihlstedt's vocals dominate the album, her violin work is as arresting as ever. But then, as a group, Tin Hat's musicianship is masterly throughout. Each piece is full of subtle and telling details, like the ominous rumble of Goldberg's contra alto clarinet on "unchanging," an arrangement that shadows cummings' unorthodox placement of the text on the page.
Tin Hat captures the seismic emotional swings of cummings' verse, delving both into his dark moods and his giddy flights, like "yes is a pleasant country," the album's closest brush with preciousness.
A beautifully constructed album that reveals more with each spin, "the rain" contains art songs and folk ballads, tango flourishes and jazzy grooves. And much like cummings' mercurial verse, it offers a surprise around every corner.