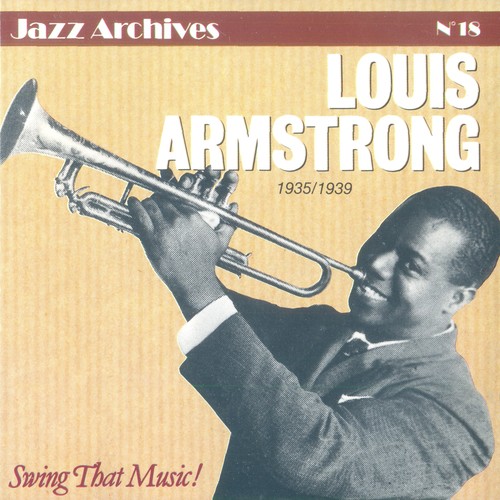 Artist:
Louis Armstrong
Album:
Swing That Music! 1935/1939
Genre:
Dixieland, Swing
Label:
EPM / Jazz Archives
Released:
1990
Quality:
FLAC (tracks+.cue)
Tracklist:
Shoe Shine Boy 3'13 (S. Chaplin - S. Cahn)
La Cucaracha 2'42 (S. Adams - Folklore)
Thanks A Million 2'37 (G. Kahn - A. Johnston)
Solitude 2'58 (I. Mills - D. Ellington)
I Hope Gabriel Likes My Music 3'15 (D. Franklin)
Lyin' To Myself 3'08 (H. Carmichael)
Ev'ntide 2'49 (H. Carmichael)
Swing That Music 2'48 (H. Gerlach - L. Armstrong)
Mahogany Hall Stomp 3'03 (S. Williams)
Dippermouth Blues 2'43 (L. Armstrong - J. Oliver)
Struttin' With Some Barbecue 2'54 (L. Armstrong)
Hear Me Talkin' To Ya 3'04 (L. Armstrong)
Save It Pretty Mama 2'56 (D. Redman)
West End Blues 3'08 (C. Williams - J. Oliver)
Savoy Blues 3'12 (E. Ory)
My Monday Date 2'27 (L. Armstrong - E. Hines)
DOWNLOAD FROM FILECAT.NET >>>
Could jazz possibly have been the same without Louis Armstrong? Both the man and the music were born around 1900, the turn of the century being a neatly convenient date for two such monumental events. The Louis Armstrong genius played a crucial role not only in the evolution of jazz, but subsequently in that of a whole massive slice of 20th-century popular music. Known to the public at large as a jovial entertainer, Louis, behind his showman's "satchelmouth" smile (hence Satchmo), was in fact a musical pioneer of immense importance. He freed jazz from its tight-knit collective patterns and developed the concept of virtuoso soloist. Harmonies were investigated, the music became more flexible, and the way was opened to the "swing" music of the 1930s. All by natural instinct and quite definitely not with the help of conservatory training! Big as he became as an entertainer, Louis always remained of basically retiring disposition, a human being of great generosity and bubbling good humour. The warmth of his music reflects the warmth of the man himself. And the apparent ease with which he produced his music reflects the genius that resided in that modest exterior.
The second volume, Swing That Music, comprise recordings of Louis Armstrong and His Orchestra from the 1930s, at a time when his playing was already reaching incredible musical heights.