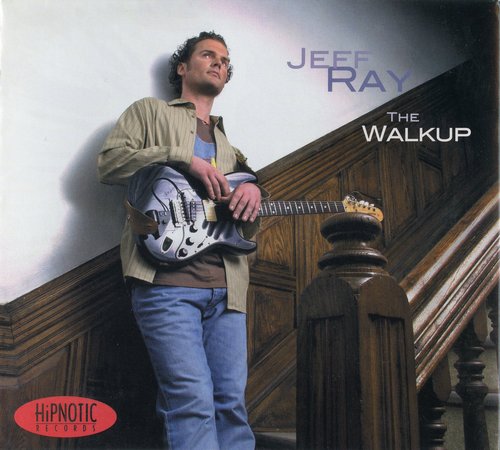 Artist:
Jeff Ray
Album:
The Walkup
Genre:
Fusion
Label:
HiPNOTIC Records
Released:
2003
Quality:
FLAC (image+.cue)
Tracklist:
Streams (Ray) - 7:32
D.R.A. (Ray) - 6:55
Hot Music (Soho) - 9:35
Everybody Loves the Sunshine (Ayers) - 6:21
The Walkupv - 5:28
Wise Ton J (Ray) - 10:14
Cinnamon Lenses (Ray) - 7:15
Hoodwink (Ray) - 7:20
DOWNLOAD FROM FILECAT.NET >>>
Personnel:

Jeff Ray - electric guitar
Aaron Swinn - Hammond B3 organ, Rhodes keyboard
Darryl Hall - electric bass
Victor Wise - drums
After four years spent cutting his teeth in clarinetist Darryl Harper's jazz project The Onus, the Ohio native Jeff Ray has released his debut solo recording, a largely self-penned collection of extended electric jams and a collage of musical genres.
"Solo recording," however, is a descriptive term that offers quite a lot of slack. The overall impression of The Walkup – named for the urban stretch between Ray's flat and the Harlem jazz hotspot St. Nick's Pub where he got his start – is that Ray is a strong player but benefits greatly from his hand-picked band, the talented trio of drummer Victor Wise, keyboardist Aaron Swinn and bassist Darryl Hall. This is of course the guitarist's first album proper, not to mention his first as leader, so it isn't to be expected that he would step into his dual role in the manner of a thirty-year veteran.
But The Walkup is by any reckoning a group effort, full of mutualistic release and reining in, with each player giving the other just enough license. And chances are that Ray wouldn't be able to pull off the nimble time and chord shifts (as on "Hot Music") alone as well as he does here with Wise et al beside him. Without them it's also debatable whether or not Ray would find the listener so willing to follow his flights of fancy through funk, blues, smooth jazz, rock and R&B – and that's just on one track.
With that in mind, purists – if this strange breed of aficionados even exists anymore – will probably be put off by The Walkup because of its occasional tendencies toward stadium jam, a style of playing more often associated with bands like Phish and String Cheese Incident. The title track is a good example of this, as is the latter half of "Hoodwink," and those who prefer their jazz more intimate won't find it hard to envisage (in a pejorative sense) Ray, eyes closed, hair ruffled by the evening breeze, cranking out orgiastic riffs while Swinn lays down some thick Hammond grooves to please the crowd.
Still, a solid debut is a solid debut, and The Walkup gives plenty of reasons to expect good things from Ray in the future: the bluesy cool of "D.R.A." to cite one, and the psychedelic reggae-like fusion of "Wise Ton J" to cite another. This full-length, if it can be regarded as some sort of declaration of musical intent, would seem to indicate that Ray is not content to remain firmly in the jazz idiom, a restlessness that could make his future career either delightful or disastrous. At any rate, he and his musical partnerships ought to keep things interesting.
Review by Eric J. Iannelli