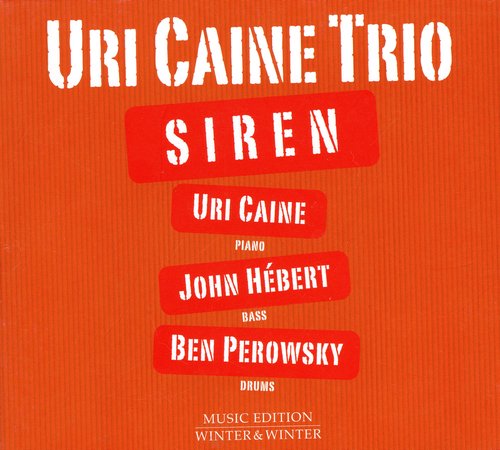 Artist:
Uri Caine Trio
Album:
Siren
Genre:
Modern Creative, Post-Bop, Contemporary Jazz
Label:
Winter & Winter
Released:
2011
Quality:
FLAC (tracks+.cue)
Tracklist:
Tarshish (Caine) - 2:20
Interloper (Caine) - 4:20
Siren (Caine) - 4:47
Crossbow (Caine) - 4:17
Smelly (Caine) - 5:16
Succubus (Caine) - 4:23
Green Dolphin Street (Kaper) - 5:53
Foolish Me (Caine) - 4:33
Calibrated Thickness (Caine) - 2:10
Hazy Lazy Crazy (Caine) - 4:32
Free Lunch (Caine) - 4:53
Manual Defile (Caine) - 4:17
DOWNLOAD FROM FILECAT.NET >>>
Personnel:

Uri Caine - piano
John Hebert - bass
Ben Perowsky - drums
Pianist Uri Caine holds a unique distinction, known the world over as a stellar jazz pianist, but a critics' darling for his genre-blind reworkings of classical music. His takes on the work of Gustav Mahler, Johann Sebastian Bach, Wolfgang Amadeus Mozart and Richard Wagner have become modern classics which straddle several musical worlds, but Caine's is no one-trick pony. When he isn't busy turning classical music history on its head, his restless artistic curiosity has taken him to a variety of other realms. The pianist tipped his hat to Thelonious Monk and Herbie Hancock, with album-length salutes to each, took a stroll down Tin Pan Alley (Winter & Winter, 1999), visited Brazilian music via Rio (Winter & Winter, 2001), explored the possibilities within the solo piano context on Solitaire (Winter & Winter, 2001), and tackled fusion in his own personal way with his Bedrock band.
On Siren, Caine works within the piano trio format, but this is no cocktail piano record or comfortable ride through The Great American Songbook. Caine challenges trio conventions with a program of originals and one standard ("Green Dolphin Street"), further confirming his compositional acumen and musicality. While he's capable of tugging at the heartstrings ("Foolish Me") and playing to post-millennial piano trio trends ("Interloper"), this merely indicates he can comfortably walk where others have left their mark. When Caine uses musical free association, rhythmic trickery, and group interplay, either separately or in combination, he puts his own mark on this format.
His compatriots on this twelve song sojourn—bassist John Hébert and drummer Ben Perowsky—share in the pianist's musical vision, regardless of where it takes them. They're comfortable playing in concentric circles around one another ("Siren"), working in a funky format ("Crossbow"), and allowing musical ideas to cohere and dissolve at will. One piece might be an evolving journey ("Free Lunch"), while the next might simply be a fun-filled, four-plus minute musical party ("Manual Defile"). Caine opens the album with a metric labyrinth ("Tarshish") that provides a challenge to count along with, and, from that point on, it's clear that he's willing to go where few people have traveled. While no single work will ever define an artist as multitalented and stylistically mercurial as Uri Caine, Siren proves to be a fine document of his thoughts on the art of the trio in the year 2011.
Review by Dan Bilawsky