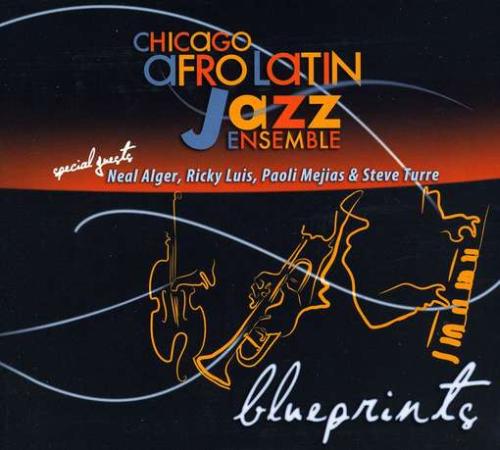 Artist:
Chicago Afro Latin Jazz Ensemble
Album:
Blueprints
Genre:
Latin Jazz
Label:
Chicago Sessions
Released:
2010
Quality:
FLAC (image+.cue)
Tracklist:
Send Eggs (Turros) - 6:23
Milesmiles (Noguera) - 8:45
Captain Spok (Garcia-Noguera) - 8:26
Vuelvo a Vivir (Garcia-Rosario) - 5:41
Blueprints (Garcia-Noguera) - 5:56
Bossa Pegajosa (Turros) - 6:12
Tierra (Mayor) - 5:47
Timeless (Garcia-Noguera) - 10:31
DOWNLOAD FROM FILECAT.NET >>>
Personnel:

Victor Garcia - trumpet
Darwin Noguera - piano
Ernie Adams - drums (#1,3,4,6,8)
Tito Carrillo - trumpet
Steve Eisen - baritone saxophone
Victor Gonzalez, Jr. - congas
Roger Ingram - trumpet
Nythia Martinez - vocals
Rich Moore (#7) - alto saxophone, clarinet

John Mose - trombone
Juan Daniel Pastor - drums (#2,5,7), cajon
Juan Picorelli - timbales
Joshua Ramos - electric bass
Freddie Rodriguez - trumpet
Craig Sunken - trombone
Greg Ward II - alto saxophone
Rocky Yera - tenor saxophone, baritone saxophone, flute
with guests:
Juan Turros - tenor saxophone (#1)
Paoli Mejias - congas (#1,5)
Steve Turre - trombone (#3,5)
Ricky Luis - vocals (#4)
Neal Alger - electric guitar (#4)
When cooking a marvelous soup or stew from scratch with all the finest ingredients, there's that special moment when the culinary creation rushes to a boil and marvelous flavors burst out explosively into the air. It's the penultimate moment only surpassed by the delicious devouring. Contentment follows.
The selections contained in the Chicago Afro-Latin Jazz Ensemble's fine Blueprints are wonderfully reminiscent of a musical recipe that simmers slowly and then bursts into a fiery buffet. This is a marvelously entertaining offering by a group of outstanding musicians, writers and arrangers. Forget the designations "Latin" and "jazz." This is outstanding, high-energy music.
The recipe here is exclusively spicy Latin with wonderful, generous dollops of inventive, hard jazz playing across the board. While the Latin (and one reggae) grooves might sound familiar, it's the playing and exciting soloing over those rhythmic/harmonic structural underpinnings that blow white-hot. There's an air of machismo that runs throughout Blueprints from note one.
Not surprisingly, this group delivers. Each selection also offers intelligent and compelling writing. The arrangements all seem to be neatly constructed to allow room for both ensemble and solo showcases to reach a climax, all while avoiding any Latin band rhythmic or harmonic clichés. The ensemble playing is tight and the arrangers demand absolutely everything of the band, including cascading pyramids and melodic/time complexities on tracks like "Captain Spok." The one vocal cut, "Vuelvo a Vivir," segues from a rather restrained reggae groove to a blistering salsa, complete with screaming trumpet dog-whistle holdover.
Soloists Juan Turros, on tenor sax, and trumpeter Victor Garcia (both of whom also add marvelous compositions and arrangements) delight. Alto saxophonist Greg Ward II inspires, while pianist Darwin Noguera throbs. The addition of trombonist/shell player Steve Turré is a wonderful, exciting touch, his playing always intelligently emotional. Noted trumpeter Roger Ingram helps add atmosphere and supreme lead playing to an ensemble whose rhythm section drives everything unmercifully.
The Chicago Afro-Latin Jazz Ensemble soars with this exciting CD. It also further embraces the important and integral mix of Afro-American jazz and Latin pulses.
Blueprints delivers the goods and cooks. Mama, this is not your average Latin paella. This is muy fuego.
Review by Nicholas F. Mondello