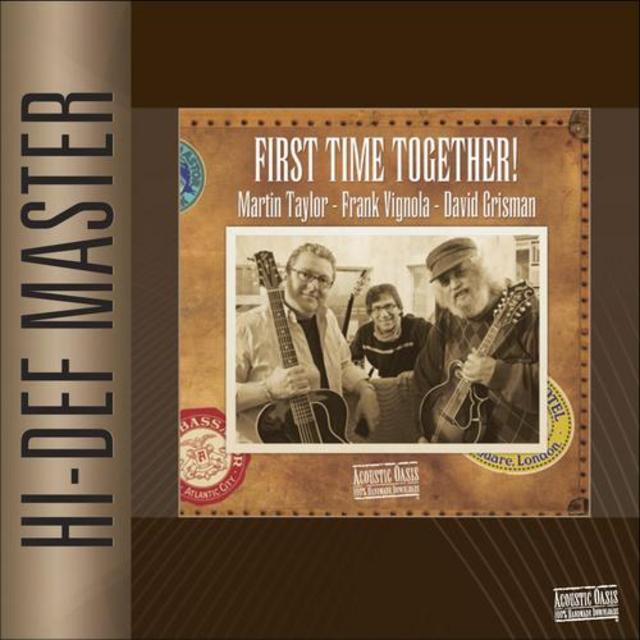 Artist:
Martin Taylor, Frank Vignola, David Grisman
Album:
First Time Together!
Genre:
Crossover Jazz
Label:
Acoustic Oasis
Released:
2012
Quality:
FLAC (tracks)
Tracklist:
The Surrey with the Fringe on Top (4:51)
Avalon (4:15)
Poinciana (5:34)
I'm Confessin' (5:40)
Tracy's Tune (6:41)
I'll See You in My Dreams (4:44)
Serafina (4:43)
My Blue Heaven (4:10)
Swang Thang (4:18)
Newly Wedding (4:33)
Diane (4:32)
Michelle (3:27)
DOWNLOAD FROM FILECAT.NET >>>
Personnel:

Martin Taylor - guitar (right channel))
Frank Vignola - guitar (left channel)
David Grisman - mandolin
Samson Grisman - bass
For the first time ever, guitar titans Martin Taylor and Frank Vignola got together in Dawg Studios with mandolinist/producer and old friend David Grisman and his bassist son Samson to play some music and have a good old time. In one day-long session, this brand new quartet recorded the dozen tunes which comprise this collection.
The repertoire spans the great American songbook with showtunes, "Surrey With The Fringe On Top" from "Oklahoma," ) standards from "Avalon" to "Poinciana," as well as originals by Martin, ("Seraphina,") Dawg ("Swang Thang") and Lennon-McCartney 's "Michelle." The playing is relaxed and stellar and the HD recording is a sonic delight.