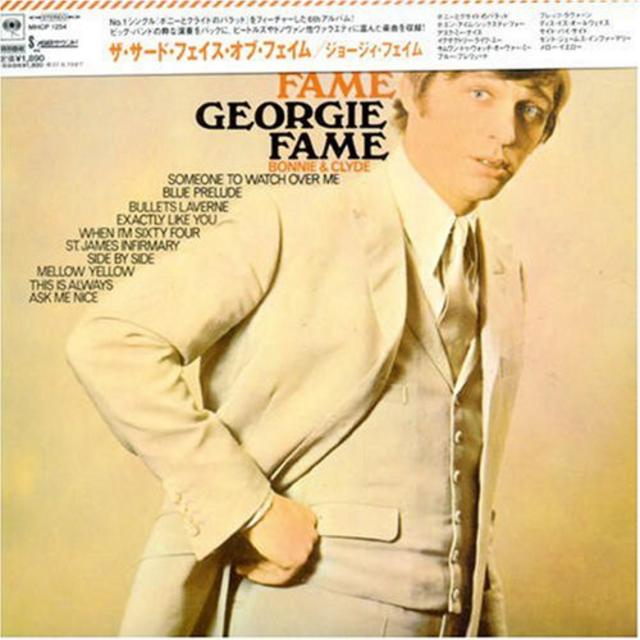 Artist:
Georgie Fame
Album:
The Third Face of Fame
Genre:
R&B, Soul, Blues
Label:
Sony Music Direct
Released:
1968/2006
Quality:
FLAC (tracks+.cue)
Tracklist:
The Ballad of Bonnie and Clyde (Murray-Callander) - 3:10
When I'm Sixty Four (Lennon-McCartney) - 3:13
Ask Me Nice (Allison) - 2:32
Exactly Like You (Fields-McHugh) - 2:07
Someone to Watch over Me (Gershwin-Gershwin) - 3:20
Blue Prelude (Jenkins-Bishop) - 1:56
Bullets Laverne (Greenbaum-Kane) - 2:26
This Is Always (Warren-Gordon) - 3:45
Side by Side (Woods) - 2:31
St. James Infirmary (Primrose) - 4:10
Mellow Yellow (Leitch) - 3:37
DOWNLOAD FROM FILECAT.NET >>>
Georgie Fame was firmly enrolled within his pop phase by 1968, and Third Face of Fame did not care who noticed. In fact, it rather hoped that everybody lured into earshot by his recent chart-topping lament for outlaws Bonnie & Clyde (the opening "The Ballad of Bonnie & Clyde," of course), would all come hurtling in. In fact they didn't, and the album marked Fame's first non-charting outing since his debut, five years before -- which means the millions missed out on a handful of cuts that were at least as enjoyable as the hit. A version of the Beatles' "When I'm 64" rivals any other cover of that song, with Fame's treatment truly capturing the foreboding that lurks behind the superficial buoyancy of the lyric, while there's also a heartfelt version of George and Ira Gershwin's "Someone to Watch Over Me." Earlier fans are treated to a powerful visit to "St James Infirmary," which proves that Fame has lost none of his earlier taste for menacing R&B, while the closing romp through Donovan's "Mellow Yellow" is nothing if not, er, mellow. Third Face of Fame can scarcely be recommended to anybody yearning for Fame himself to return to the blues-breaking growl of old. But, as an example of British pop's own longtime fascination with "adult"-sounding entertainment, it's certainly an enjoyable slice of very easy listening.
Review by Dave Thompson