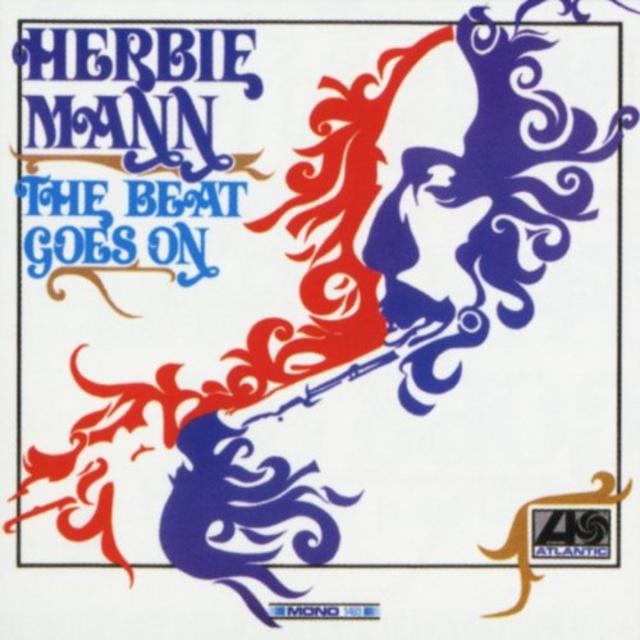 Artist:
Herbie Mann
Album:
The Beats Goes On
Genre:
Soul Jazz, Afro-Cuban Jazz
Label:
Atlantic
Released:
1967/2014
Quality:
FLAC (image+.cue)
Tracklist:
No Matter What Shape (03:25)
More Rice Than Peas, Please (03:30)
Hey Ho (02:45)
The Honeydripper (02:45)
The Beat Goes On (02:50)
Swingin' Shepherd Blues (03:05)
West African High Life (02:40)
Dream Garden (04:37)
Soul Montuno (02:58)
Is Paris Burning? (02:37)
DOWNLOAD FROM FILECAT.NET >>>
Personnel:

Herbie Mann (Flute)
Reggie Workman (Bass) - 1-7,9,10
Carlos "Patato" Valdes (Congas) - 1-7,9,10
Bruno Carr (Drums) - 1-7,9,10
Jimmy Wisner (Piano) - 1-7,9,10
Roy Ayers (Vibraphone) - 1-7,9,10
Jack Six (Bass) - 8
Bobby Thomas (Drums) - 8
Attila Zoller (Guitar) - 8
Don Friedman (Piano) - 8
King Curtis (Tenor Saxophone) - 4
Clark Terry (Trumpet) - 7
Herbie Mann was quite unpredictable in the 1960s -- from one album to the next, you never knew if he would embrace hard bop, bossa nova, Latin jazz, soul-jazz, or whatever else he was in the mood for. He could be commercial one minute, esoteric and experimental the next. One of Mann's more commercial LPs from that period, The Beat Goes On, is a generally funky, groove-oriented soul-jazz effort with strong Latin leanings. Much of the material brings to mind Pucho and the Latin Soul Brothers, and comparisons to Pucho are unavoidable on cuts that range from Mann's "More Rice Than Peas, Please" to a version of Sonny & Cher's "The Beat Goes On" and a Latin boogaloo interpretation of Joe Liggins' "The Honeydripper" (which features King Curtis on tenor sax). Afro-Cuban rhythms are a high priority, although Mann gets into more of a bossa nova groove on vibist Dave Pike's "Dream Garden." Jazz purists hated this release, but let them say what they will -- this LP is full of highly infectious grooves and makes a great party album. Regrettably, The Beat Goes On has long been out of print -- so if you're a lover of Latin-flavored soul-jazz and come across a copy somewhere, grab it immediately.
Review by Alex Henderson