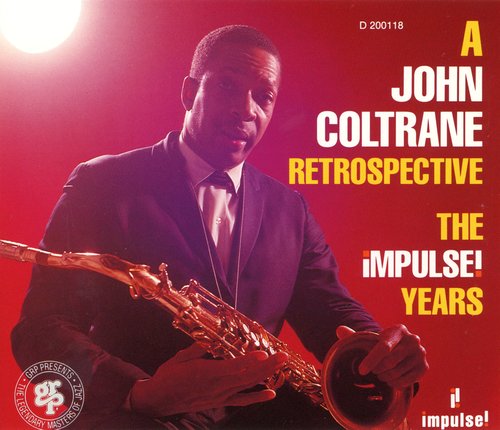 Artist:
John Coltrane
Album:
A John Coltrane Retrospective: The Impulse! Years
Genre:
Hard Bop, Avant-Garde Jazz
Label:
Impulse!/MCA/GRP
Released:
1992
Quality:
FLAC (tracks+.cue)
Tracklist:
CD 1:

Greensleeves (Trad.) - 9:59
Naima (Coltrane) - 7:43
Impressions (Coltrane) - 14:56
Spiritual (Coltrane) - 13:46
Chasin' the Trane (Coltrane) - 16:04
CD 2:

Soul Eyes (Waldron) - 5:26
Miles' Mode (Coltrane) - 7:34
What's New (Haggart-Burke) - 3:47
In a Sentimental Mood (Ellington) - 4:17
Take the Coltrane (Ellington) - 4:44
My One and Only Love (Mellin-Wood) - 4:57
After the Rain (Coltrane) - 4:12
Afro-Blue (Santamaria) - 10:50
I Want to Talk About You (Eckstine) - 8:14
Alabama (Coltrane) - 5:09
CD 3:

Crescent (Coltrane) - 8:45
Bessie's Blues (Coltrane) - 3:35
A Love Supreme (Part One: Acknowledgement) (Coltrane) - 7:50
Nature Boy (Ahbez) - 8:01
Chim Chim Cheree (Sherman-Sherman) - 7:00
Dear Lord (Coltrane) - 5:37
Living Space (Coltrane) - 10:20
Welcome (Coltrane) - 5:27
Offering (Coltrane) - 8:27
DOWNLOAD FROM FILECAT.NET >>>
Each album John Coltrane released on Impulse Records had a specific mood and tone; often, they were sequenced in a specific order to maximize the emotional impact of the music. Consequently, a compilation isn't the best way to hear these records, and Retrospective: Impulse proves that. There's certainly a lot of wonderful, timeless music on this collection, from "Naima" to "Alabama," but this disc isn't the way to appreciate it, since its sequencing doesn't have the same impact or context as the original albums. Some casual fans or curious listeners might use this as an introduction, and it isn't necessarily bad, since it does have an abundence of good music. However, it's not as good an introduction to the Impulse records as the original records themselves.
Review by Stephen Thomas Erlewine