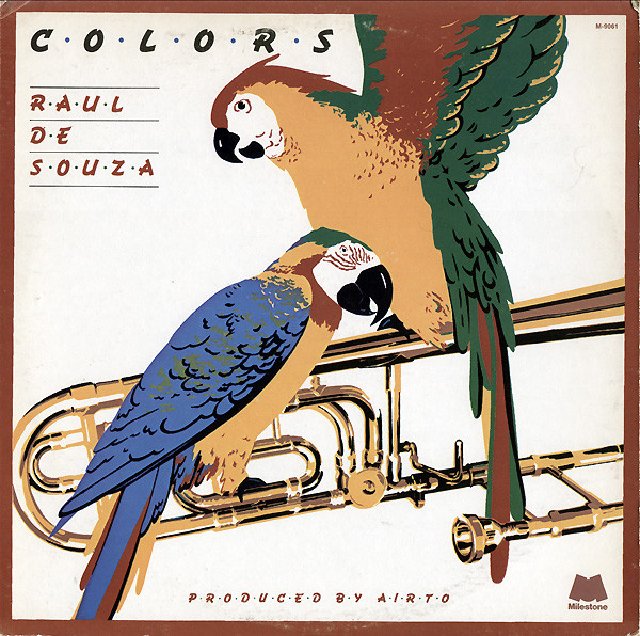 Artist:
Raul de Souza
Album:
Colors
Genre:
Latin Jazz, Brazilian Jazz
Label:
Milestone/OJC
Released:
1999
Quality:
APE (image+.cue)
Tracklist:
Nana [03:54]
Canto de ossanha [03:55]
Water buffalo [04:46]
Dr. honoris causa [07:13]
Festival [04:46]
Crystal silence [11:23]
Chants to burn [04:53]
DOWNLOAD FROM FILECAT.NET >>>
This nearly forgotten Brazilian trombonist -- a protégé of Airto Moreira and Flora Purim who made a moderate impact in the U.S. in the '70s only to mysteriously give it up and return to Brazil and subsequent obscurity -- resurfaces on a CD reissue of a star-studded session from 1974. Producer Airto, who appears frequently on percussion (never mind the camouflaged percussion credits "Kenneth Nash and others; " one shake and you know it's Airto), succeeded in enlisting J.J. Johnson to make the horn arrangements and getting the polyrhythmic drums of Jack DeJohnette to drive the session. Cannonball Adderley makes one of his last appearances on record (he died nine months later), his alto sax burning in an otherwise cluttered stab at Baden Powell's "Canto de Ossanha," and venturing on the outside on "Chants to Burn." The most noteworthy track is Joe Zawinul's "Dr. Honoris Causa," which gets a fascinating Brazilian/jazz/rock arrangement straight out of the mid-'70s. Although the occasionally overloaded arrangements sometimes get in the way of the rhythm section, Raul turns in some capable, swinging, breathlessly phrased performances, perhaps excited by the non-playing presence of the great Johnson.
Review by Richard S. Ginell