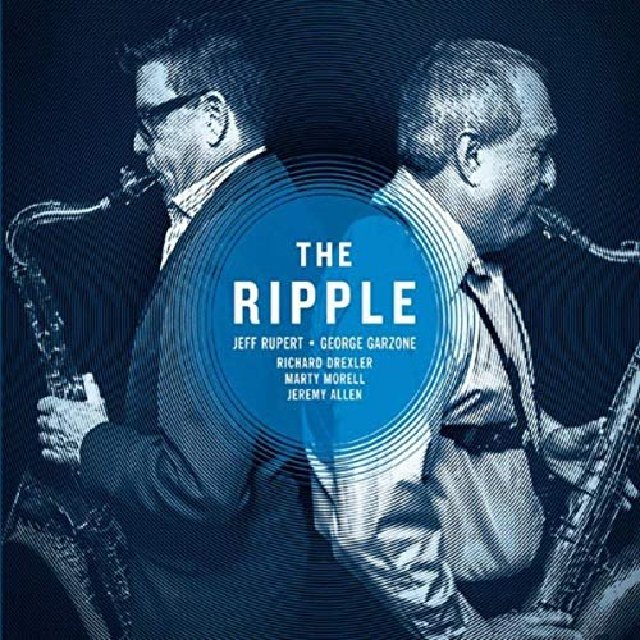 Artist:
Jeff Rupert & George Garzone
Album:
The Ripple
Genre:
Post-Bop, Mainstream Jazz
Label:
Rupe Media
Released:
2020
Quality:
FLAC (tracks)
Tracklist:
Bahia
Go-Go
Stardust
Without a Song
The Shadow of Your Smile
Detour Ahead
The Red Door
Red Top
Hoboken
Beauty Becomes Her
Lester Left Town
Alone Together
DOWNLOAD FROM FILECAT.NET >>>
Personnel:

Jeff Rupert, tenor sax
George Garzone, tenor sax
Richard Drexler, piano
Marty Morell, drums
Jeremy Allen, bass
Saxophonist Jeff Rupert has performed and recorded with the likes of Diane Schuur, Mel Tormé, Kevin Mahogany, Ernestine Anderson, and Benny Carter's Grammy winning Harlem Renaissance album. Rupert toured for fifteen years with Sam Rivers and recorded four albums in that time. He also toured and recorded with Maynard Ferguson for a number of years.
Rupert has performed at world-renowned venues like the Blue Note, Birdland, Carnegie Hall, Lincoln Center, the Kennedy Center, the Tokyo Forum, the National concert hall of Taipei, Taiwan, and jazz festivals in Europe, Israel, Australia, New Zealand, and Japan.
As a composer and arranger, Rupert has written for Bob Berg, James Moody, Maynard Ferguson, Kenny Drew Jr., Kevin Mahogany, and Judy Carmichael.
Rupertis Pegasus Distinguished Professor, Trustee Endowed Chair, and Director of Jazz Studies at the University of Central Florida (UCF). He is also the founder of Flying Horse Records.
Saxophonist George Garzone is a member of The Fringe, a jazz trio founded in 1972. A veteran jazzman, Garzone has appeared on more than 20 recordings. Garzone has toured Europe with Jamaaladeen Tacuma and performed with artists including Danilo Perez, Joe Lovano, Jack DeJohnette, Rachel Z, and John Patitucci.
He is a member of the Grammy-winning Joe Lovano Nonet. Garzone is a well-known and sought-after jazz educator, currently teaching at Berklee College of Music. He pioneered the triadic chromatic approach. His students included Joshua Redman, Branford Marsalis, Teadross Avery, Luciana Souza, Mark Turner, Donny McCaslin, Doug Yates, and Danilo Perez.
The band is rounded out by RICHARD DREXLER on piano, MARTY MORELL on drums, and JEREMY ALLEN on bass. Rupert has performed with Drexler for more than 30 years and with Morell for the past 15. Rupert and Allen have performed and taught together for a decade.
THE RIPPLE in this instance refers to the far-reaching effect of Lester Young's voice in music. By the late thirties, he emerged as the most profound improviser since Louis Armstrong. Not only saxophonists, but pianists, trombone players, and others learned how to improvise through Young—or "Prez, " as Billie Holliday nicknamed him. Young developed an individual style, sound, and concept. Prez's rhythmic subtlety seems to elude even some of his greatest admirers.
There are no compositions by Young, or songs recorded by him, on this album. Instead, it features pieces recorded or composed by some of the musicians influenced by Young, including Dexter Gordon, Stan Getz, Eddie Harris, Zoot Sims, Wayne Shorter, Joe Henderson, and others. Jeff Rupert and George Garzone show reverence for Young's impact, flirting with the surreal while trying to play pretty, swing, and tell a little story.