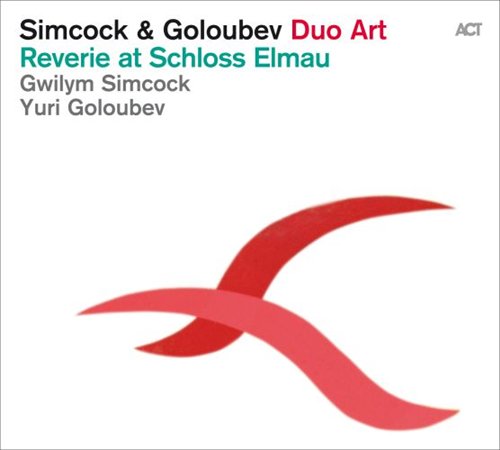 Artist:
Gwilym Simcock & Yuri Goloubev
Album:
Reverie At Schloss Elmau
Genre:
Contemporary Jazz
Label:
ACT Music
Released:
2014
Quality:
FLAC (tracks)
Tracklist:
Pastoral
Lost Romance
Shades of Pleasure
Antics
A Joy Forever
Non-Schumann Lied
Flow
Vain Song
Reverie
DOWNLOAD FROM FILECAT.NET >>>
Personnel:

Gwilym Simcock - piano
Yuri Goloubev - double bass
Schloss Elmau, in Bavaria, was the recording venue for pianist Gwilym Simcock's Barclaycard Mercury Prize nominated solo album Good Days At Schloss Elmau (ACT Music, 2011). In March 2013 Simcock returned to the Schloss in the company of double bassist Yuri Goloubev. The result is Reverie At Schloss Elmau. It's the first duo album by these stylish players, although they have played and recorded together in many ensembles over the years including trios with drummers James Maddren and Asaf Sirkis.
Simcock gets most of the writing credits here—five, to Goloubev's three. Simcock's compositions are perhaps a little more jazz-oriented than Goloubev's, but there's not a vast degree of difference. Both men display a love of melody in their writing; each one shows a delight in using space to enhance the emotional impact of the music. The result is an impressive collection, the generally relaxed and reflective compositions combining with excellent recording (by Adrian von Ripka) to create an intimate mood.
Goloubev originally wrote "Lost Romance" for accordion—something which is not obviously apparent as bass and piano combine on this romantic ballad. Simcock's "Antics" is suitably jittery and urgent, the duo seemingly racing each other to a distant finish line. It's an enjoyable but uncharacteristic shift in tempo and rhythm. Calm returns immediately, courtesy of another Simcock composition, "A Joy Forever," featuring Goloubev's arco bass—which, appropriately, is a thing of beauty.
"Flow" is another of the pianist's compositions which is aptly described by its title—a rolling, flowing, melody. Goloubev bows his bass with precision and grace, despite working for the most part in what Simcock describes as an "unfeasibly high register" for the instrument. "Vain Song" is dedicated by Goloubev to his musical partner (the title is a nod to Simcock's own "Plain Song.")
"Reverie" was written for piano and double bass by the 19th century Italian composer Giovanni Bottesini. Simcock and Goloubev perform the piece beautifully, the bass readily evoking the mood of the title while Simcock's spare and unshowy accompaniment gives the piece more of a jazz flavor than it traditionally receives. The piece sits comfortably alongside Simcock and Goloubev's own writing: a testament to the timeless quality of the performances and compositions on Reverie At Schloss Elmau.
Review by Bruce Lindsay