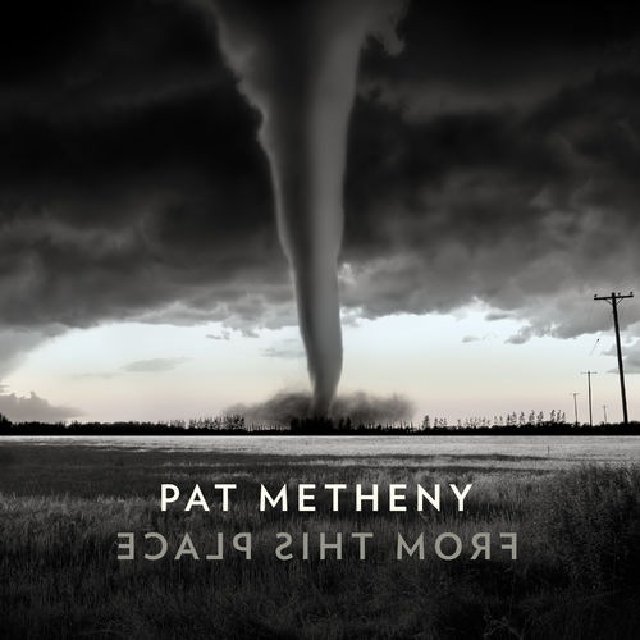 Artist:
Pat Metheny
Album:
From This Place
Genre:
Fusion, Contemporary Jazz
Label:
Nonesuch Records
Released:
2020
Quality:
FLAC (tracks+.cue)
Tracklist:
America Undefined 13:22
Wide and Far 08:27
You Are 06:13
Same River 06:43
Pathmaker 08:20
The Past in Us (feat. Gregoire Maret) 06:24
Everything Explained 06:52
From This Place (feat. MeShell Ndegeocello) 04:40
Sixty-Six 09:39
Love May Take a While [Bonus Track] 05:57
DOWNLOAD FROM FILECAT.NET >>>
During the late 2010s, guitarist and composer Pat Metheny toured a new quartet featuring British piano prodigy Gwilym Simcock, Malaysian-Australian bassist Linda May Han Oh, and veteran Mexican-American drummer Antonio Sánchez. This group learned the guitarist's catalog and toured it globally, gelling and maturing before entering the studio for From This Place, the first new studio material from Metheny since 2014. Metheny's group is aided by the Hollywood Symphony Orchestra conducted by Joel McNeely. The orchestral charts were handled by Alan Broadbent and Gil Goldstein, who developed them after the players' recorded interactions so as not to muddy the live playing and improvising. Tensions exist throughout: There are musical and sonic references to storms (literal and metaphorical), the environment, American political life, and trying emotional, romantic, and economic times. Metheny and the band balance them with hope, sensitivity, steely determination, and vulnerability.
From This Place is lush, airy, elegant, and graceful, framed by adventurous harmonics, dark drama, and illuminating melodic invention. At over 13 minutes, opener "America Undefined" is more a suite than a composition. Introduced by Sánchez's whispering cymbals, a sonorous cello, ambient textures, and Simcock's piano, Metheny's languid entrance becomes an incantation that, just a few minutes later, introduces fleet post-bop propelled by Han Oh and Sánchez. Pianist and guitarist complement each other with fills, accents, and counter melodies; they eventually commingle and add sweeping colors through their interplay, as an echoing train and a swelling orchestra make the drama transcendent. By contrast, "Wide and Far" is a bluesy groover that nods to Metheny's first great jazz influence, Wes Montgomery, while Simcock melds Horace Silver's funky hard bop to nearly pastoral expressionism. The tune's orchestration recalls Don Sebesky's on The Rape of El Morro, one of the CTI dates that remains important to Metheny. "You Are" commences as a slow, crystalline ballad stated impressionistically by piano, guitar, and bass with only brushed percussion accents. Halfway through, Sánchez erupts, a storm darkens from the orchestra and the entire band crashes in as wordless vocals hover like sirens in the backdrop. The tune swells and simmers, then soars thanks to Sánchez's thunderous rolls and fills. "Pathmaker" sums up the questions posed by "American Undefined." It charts a way through some of the murky darkness to revel in its intricate post-bop before Sánchez and Metheny create a second dialogue with sweeping harmonies before Simcock's knotty solo crisscrosses tradition with modernism. Metheny calms it all halfway, and begins to assemble another musical narrative in his solo break. Guest Gregoire Maret adds a tender, high-lonesome harmonica to the gorgeous ballad "The Past Is in Us." Metheny composed the title track's melody in 2016, the morning after Donald Trump's election. Alison Riley's poignant lyrics are delivered by her partner MeShell Ndegeocello. Metheny explained that they ". . . captured exactly the feeling of that tragic moment while reaffirming the hope of better days ahead. . ." From This Place integrates and illuminates most of Metheny's musical personas. His compositions allow this stellar collective to roam through them with their many strengths. They ultimately provide fans an abundance of listening pleasure. Even in a catalog filled with so many gems, From This Place shines brightly.
Review by Thom Jurek