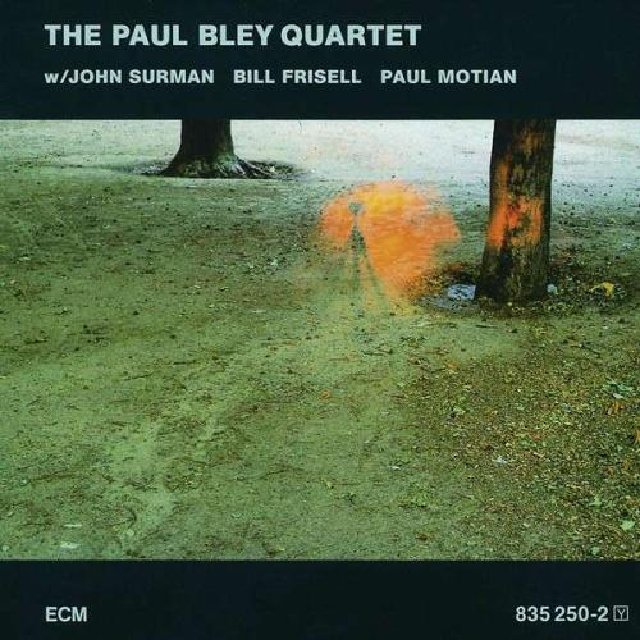 Artist:
Paul Bley
Album:
The Paul Bley Quartet
Genre:
Avant-Garde Jazz, Free Jazz
Label:
ECM Records
Released:
1987
Quality:
FLAC (tracks+.cue)
Tracklist:
Interplay (P.Bley) - 20:22
Heat (Surman) - 8:19
After Dark (Frisell) - 11:56
One in Four (Motian) - 9:33
Triste (P.Bley) - 2:58
DOWNLOAD FROM FILECAT.NET >>>
Personnel:

Paul Bley - piano
John Surman - soprano saxophone, bass clarinet
Bill Frisell - guitar
Paul Motian - drums
This 1987 date teams the iconoclastic pianist with guitarist Bill Frisell, drummer Paul Motian, and British saxophonist John Surman. While it's easy to argue that, with Manfred Eicher's icy, crystalline production, this was a stock date for both the artists and the label, that argument would be flat wrong. Bley was looking for a new lyricism in his own playing and in his compositions. He was coming from a different place than the large harmonies offered by augmented and suspended chords and writing for piano trios. The other band members -- two other extremely lyrical improvisers in Surman and Frisell (who prized understatement as the veritable doorway to lyricism) and a drummer who was better known for his dancing through rhythms than playing them in Motian -- were the perfect foils. For the opening solos of "Interplay," Bley traipses around Frisell with a sparse elegance as the guitarist single notes his way into the heart of the piece's silence before Surman draws the entire band out of it with Bley painting the backdrops in the exit. Or there's Surman's "One in Four," written for Bley, in which the pianist moves ahead, stating large middle- and low-register chords as a melody, settling it in D minor and waiting for the band to fill in the pieces before expanding the textural palette to include his own sense of rhythm and a folk song melody in his solo. Breathtaking. The only dud is Frisell's skronk piece, "After Dark," which would have been fine for Naked City, but feels completely out of place here.
Review by Thom Jurek