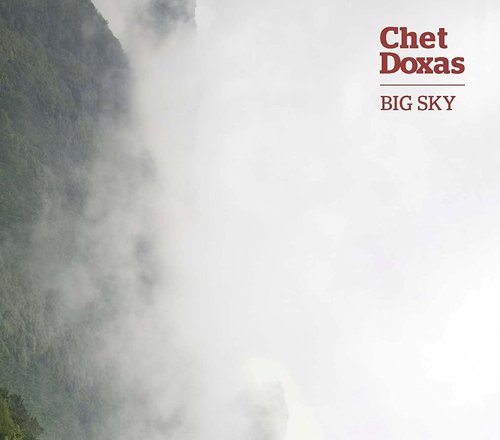 Artist:
Chet Doxas
Album:
Big Sky
Genre:
Post-Bop, Contemporary Jazz
Label:
Justin Time
Released:
2010
Quality:
FLAC (tracks+.cue)
Tracklist:
For Jim (Doxas) - 6:57
Big Sky (Doxas) - 6:44
L'Acadie (Doxas) - 5:23
Sideshow (Doxas) - 6:08
Goodbye (Jenkins) - 4:07
The Walk Will Do You Good (Doxas) - 7:01
Blue 23 (Lober) - 3:43
Blumen (Doxas) - 6:06
DOWNLOAD FROM FILECAT.NET >>>
Personnel:

Chet Doxas - tenor saxophone
Ben Charest - guitar
Zack Lober - bass
Jim Doxas - drums
As much as a recent Ottawa, Canada performance was an intimate opportunity for local fans to see John Abercrombie, it was equally noteworthy for the two brothers who brought the veteran guitarist and bassist John Menegon, both from Upstate New York, for a short tour of Toronto, Kingston, Ottawa and Montreal. Saxophonist Chet Doxas and drummer Jim Doxas are no strangers to Ottawa—especially Jim, a regular at local bassist John Geggie's annual Geggie Concert Series. Chet—who has recorded and/or toured with artists including Dave Douglas, Jason Moran, David Binney and Oliver Jones—the latter, Jim's regular gig—released his debut as a leader, Sidewalk Etiquette (Justin Time), in 2006; four years later, Big Sky expands on its predecessor's many strengths, bringing back the same quartet, with the exception of guitarist Ben Charest, who replaces pianist John Roney.
Switching to a guitar-based group alters the overall complexion of a group which also features Jim, and longtime friend/musical cohort, bassist Zack Lober. But beyond the obvious, it creates a sense of air that allows the dark, brooding, title track—paradoxically introspective, given its name—to breathe in a different way than it had it featured a piano's denser voicings. Charest—best known, perhaps, for his Grammy- and Academy-nominated soundtrack to The Triplets of Belleville (2003), on which Chet can also be heard—joins a warm, ambiguous harmonic approach with the kind of contemporary melodism heard from guitarists like Kurt Rosenwinkel, favoring a rich, thick tone that fills up a lot of space without ever weighing it down.
As before, Chet is the primary writer, with the exception of Lober's angularly swinging "Blue 23," and an a capella saxophone reading of clarinetist Benny Goodman's well-known theme song, "Goodbye," which—understated though it may be—demonstrates unfailing respect for composer/arranger Gordon Jenkins' memorable melody while, at the same time, pushing it into the 21st Century with a broader purview. The rest of Big Sky's eight tunes are Chet's, and demonstrate the same blend of head and heart as Sidewalk Etiquette. As much informed by 20th Century classical composers like Charles Ives and Gustav Mahler as he is jazz underdogs like Jimmy Giuffre, Doxas combines knotty structures with plenty of room to move, but Big Sky shifts towards greater lyricism, despite quirky arrangements like the closing "Blumen," with its seemingly endless series of stops and starts.
Continuing to grow as a player, Chet's tone is refreshingly not from the Chris Potter school—no disrespect intended, but the American saxophonist's influence has simply become far too pervasive. Jim continues to build on his remarkable abilities to twist and turn a pulse without ever losing it, quickly respond to the subtlest motif, and play with an often thrilling blend of restraint and abandon. A significant step forward—not just for leader Chet Doxas, but for everyone in the group—Big Sky shines a light on a fine group of players from a city that has one of the most diverse and, on the strength of albums like this, underappreciated scenes in North America, outside of New York.
Review by John Kelman