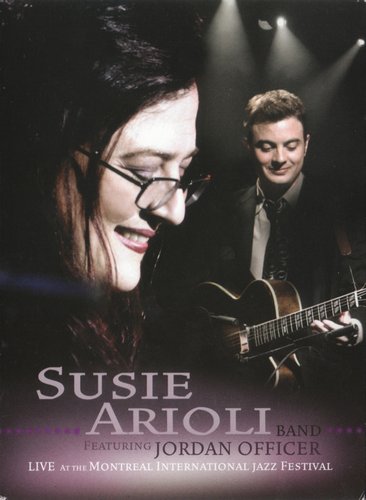 Artist:
Susie Arioli Band
Album:
Live at the Montreal International Jazz Festival
Genre:
Vocal Jazz, Swing
Label:
Justin Time
Released:
2006
Quality:
FLAC (tracks+.cue)
Tracklist:
Pennies from Heaven (Burke-Johnston) - 4:16
If Dreams Come True (Mills-Sampson-Goodman) - 2:49
Honeysuckle Rose (Razaf-Waller) - 4:19
He's Funny That Way (Whiting-Daniels) - 3:33
Walter's Flat (Officer) - 5:23
Husbands and Wives (Miller) - 3:56
Half a Mind (Miller) - 4:03
By Myself (Dietz-Schwartz) - 2:56
Having Fun (Chatman) - 5:40
The Way You Look Tonight (Fields-Kern) - 3:05
Sit Down Baby (Dixon) - 3:58
Evening (Parish-White) - 3:10
By the Time I Get to Phoenix (Webb) - 3:42
Jordan's Boogie (Officer) - 4:14
DOWNLOAD FROM FILECAT.NET >>>
Personnel:

Susie Arioli - vocals, snare
Jordan Officer - guitar, vocals
Michael Jerome Browne - guitar
Shane MacKenzie - bass
Remi Leclerc - drums
Martin Lacasse, Francis Mondoux - vocals
Judging by the four consistently fine studio albums they've produced since 2000, there's no question that co-leaders Susie Arioli and Jordan Officer represent the finest combination of silken-voiced singer and kick-ass guitarist since Mary Ford and Les Paul found one another more than a half-century ago. Those familiar with the Montreal-based band's previous recordings will find little new in this, their first live disc, recorded on their home turf at last summer's Festival International de Jazz.
Of the 14 tracks included on the CD, all but one-a superbly crafted, slow-creeping treatment of Mitchell Parish's "Evening"-are drawn from their previously recorded oeuvre. Likewise, the accompanying DVD, which expands the playlist to include the set's full assortment of 19 tunes, offers up only one fresh track, an original Officer instrumental, the shining, fluent "Le Béguin," with its clever call-and-response midsection. But even for longstanding fans, the beautifully composed and shot DVD is a delight, providing the opportunity to watch the serene Arioli and the lightning-fisted Officer in action. And for the uninitiated, both discs provide a wonderfully comprehensive introduction to two of Canada's finest.
Review by Christopher Loudon