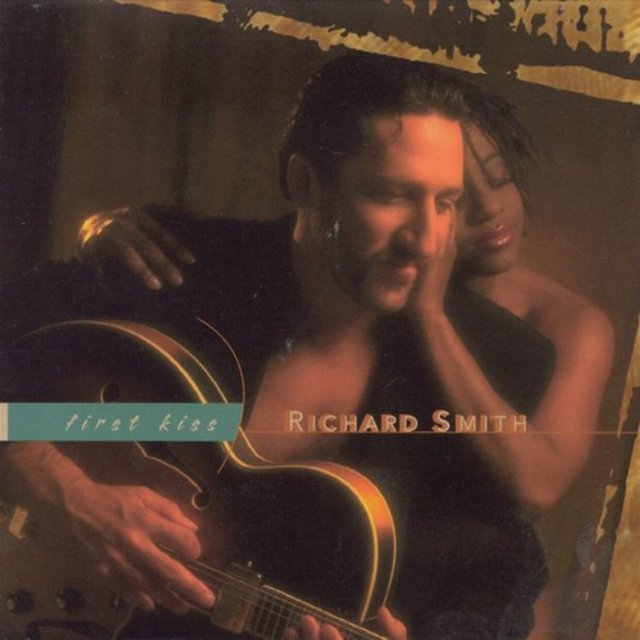 Artist:
Richard Smith
Album:
First Kiss
Genre:
Smooth Jazz, Fusion
Label:
Heads Up
Released:
1997
Quality:
FLAC (tracks+.cue)
Tracklist:
First Kiss (4:18)
Rhythm Method (4:41)
Midnight Run (4:30)
A Minor Love Affair (5:53)
Never Too Much (4:55)
Impulsive (5:08)
Mission of Love (4:21)
Like a Dream (4:46)
Put It Where You Want It (5:07)
DOWNLOAD FROM FILECAT.NET >>>
Guitarist Richard Smith has been part of the smooth jazz experience for ten years, but his solo career momentum has been hindered by label troubles and commitments to his teaching and longtime sideman gig with saxman Richard Elliot. The interracial sexuality (including a bare male behind) depicted in its cover art is indicative of the handful of surprises among the overall easygoing flow on First Kiss, his debut for Heads Up. "Impulsive," for instance, cruises along amiably, with Smith trading verses with trumpeter Tony Guerrero; then suddenly, a synth horn section gushes in, Smith explodes into a crisp wah-wah guitar jam and keyboardist Tim Redfield takes an avante garde solo. The fun in Smith's music has always come from his concurrent love affairs with blues, soul, rock and jazz. He combines the first two on a brassed-up swing version of Joe Sample's "Put It Where You Want It," pays homage to Luther Vandross along with Elliot with a throbbing take on "Never Too Much," and rocks hard on "Midnight Run," a whirlwind of a cut on which composer Redfield matches Smith note for note. Though it's clear that Smith is intent on not being pigeonholed, his commercial sensibilities are intact; "A Minor Love Affair," combining Smith's rich electric timbre with genre star Peter White's distinctive acoustic flair, is as dreamy and airwave friendly as smooth jazz ballads get.
Review by Jonathan Widran