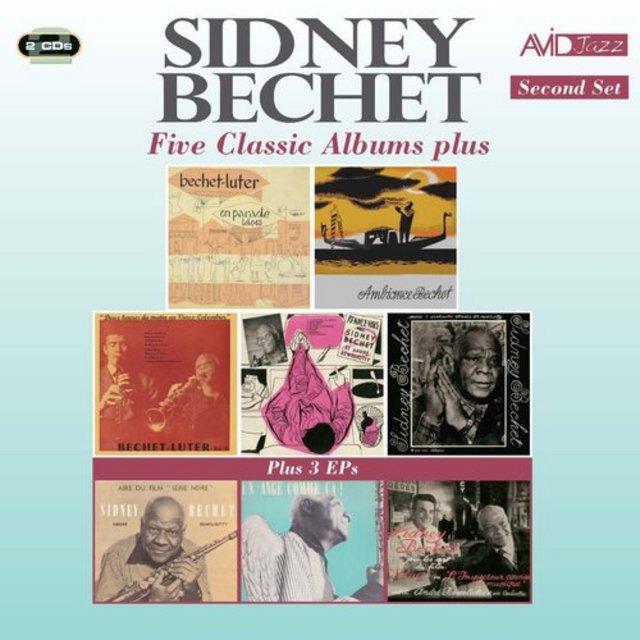 Artist:
Sidney Bechet
Album:
Five Classic Albums Plus
Genre:
Dixieland, Early Jazz, New Orleans Jazz
Label:
Avid Jazz
Released:
2017
Quality:
FLAC (tracks+.cue)
Tracklist:
CD 1:
On Parade (1952)

Le Marchand de Poissons (2:47)
Si Tu Vois Ma Mere (3:15)
Wabash Blues (3:08)
Dans les Rues d'Antibes (3:28)
Strike Up the Band (3:11)
As-Tu le Cafard? (3:32)
Pattes de Mouche (2:44)
Ghost of the Blues (3:13)
Ambiance (1952)
It's No Sin (3:22)
Because of You (3:07)
That Old Black Magic (2:57)
I Get a Kick Out of You (3:06)
You're Lucky to Me (3:33)
Petite Fleur (3:13)
Girl's Dance (2:59)
Blues (3:31)
Deux Heures du Matin au Vieux-Colombier (1952)
Porter Love Song (3:23)
Embraceable You (3:04)
12th Street Rag (3:12)
Au Clair de la Lune (3:31)
Ol' Man River (3:06)
Show Boat Medley (3:53)
You Rascal You (2:58)
Le Loup, la Biche et le Chevalier (2:52)
CD 2:
Rendez-Vous (1953)

La Complainte des Infideles (2:36)
Brave Margot (3:22)
Jacqueline (3:35)
La Canne - Le Fossoyeur (3:07)
Big Chief (3:00)
Nuages (3:55)
Elizabeth II (3:22)
Pleure Pas Nelly (3:06)
Bechet Revient (1954)
Rose de Picardie (3:05)
Temperamental (3:20)
When I Grow Too Old to Dream (2:53)
Leilie (2:42)
La Complainte de Mackie (Mack the Knife) (2:35)
Le Chant des Canons (3:16)
Some Sweet Day (2:59)
Chante, Chante (1:50)
Airs du Film "Serie Noire" (EP) (1955)
A Moi d'Payer (3:06)
Blues Dans le Blues (3:07)
Trottoirs de Paris (3:04)
Pourtant (2:58)
Un Ange Comme Ca (EP) (1955)
Un Ange Comme Ca (2:36)
South Rampart Street Parade (2:49)
L'Inspecteur Connait la Musique (EP) (1955)
Halle Halleujah/Les Hommes Sont Genereux/L'Enchainee d'Amour/Le Blues de Mes Reves/Halle Halleujah (6:28)
Halle Hallelujah/I Had It But It's All Gone Now/Blues/Halle Hallelujah (7:05)
DOWNLOAD FROM FILECAT.NET >>>
As jazz legends go, they don't come much bigger than the master clarinettist and soprano saxophonist, Sidney Bechet. Bechet's story is, of course, well known to all jazz fans, born in New Orleans, recording with Clarence Williams in 1923, even before the great Louis Armstrong, playing with all the greats including Freddie Keppard, Bunk Johnson and King Oliver. Arrested in the UK for assault, returned to the States, left again for a world tour which included Russia before settling in France (where he also served 11 months for assault). And all the while making outstanding music and largely on his own, often very forceful terms. By the time the LP's and EP's on this second AVID set were recorded, Bechet had become something of an icon in France, his fame having spread far beyond the coterie of jazz lovers who were his core fans. His image was even used on an expensive brand of chocolates, as well as other merchandise. Bechet's own compositional skills are to the fore on a number of the sides on this two CD set, including Petite Fleur, a big hit for Bechet and a few years later a million seller for Chris Barber - as well as the suitably moody "Temperamental" and the beautiful "Jacqueline" which Bechet composed in honour of his mistress.