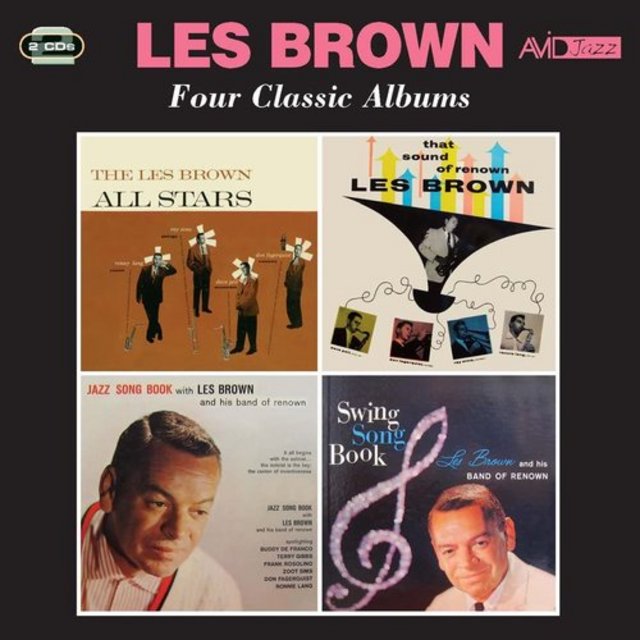 Artist:
Les Brown
Album:
Four Classic Albums
Genre:
Big Band, Swing
Label:
Avid Jazz
Released:
2016
Quality:
FLAC (tracks+.cue)
Tracklist:
CD 1:
Les Brown All Stars (1955)

Mike's Peak (2:28)
Thou Swell (2:40)
The Way You Look Tonight (3:32)
You Don't Know What Love Is (3:23)
The Man I Love (3:22)
Sorta Moonlight (2:25)
Love Is Just Around the Corner (3:37)
Klump Jump (2:47)
My Funny Valentine (3:13)
Love Me or Leave Me (2:42)
Let's Fall in Love (2:55)
Poopsie (2:40)
That Sound of Renown (1956)
I've Got My Love to Keep Me Warm (2:59)
New Mexican Hat Dance (2:28)
I'm Forever Blowing Bubbles (2:41)
Bernie's Tune (2:36)
Highlights of George Gershwin's "An American in Paris" (6:17)
It's Alright with Me (2:44)
Something's Gotta Give (2:51)
The Gal from Joe's (2:45)
Lullaby in Rhythm (3:22)
Nutcracker Suite, Op.71 (7:05)
CD 2:
Jazz Song Book (1959)

King Phillip Stomp (2:34)
Willow Weep for Me (3:25)
Don't Get Around Much Anymore (2:43)
S' Wonderful (2:57)
Apple Honey (2:27)
I Remember You (2:28)
The Claw (3:29)
Pizza Boy (3:21)
Let's Get Away from It All (3:04)
Love Is Here to Stay (3:41)
I Only Have Eyes for You (2:50)
Chelsea Bridge (3:37)
Swing Song Book (1959)
Swing Book Blues (4:13)
How High the Moon (2:57)
Early Autumn (3:19)
King Porter Stomp (3:24)
Lullaby of Birdland (3:23)
Moten Swing (3:15)
Just in Time (from "Bells Are Ringing") (3:00)
I Want to Be Happy (2:40)
Take the "A" Train (3:31)
I'm Beginning to See the Light (3:22)
Pick Yourself Up (2:58)
Lean Baby (2:57)
DOWNLOAD FROM FILECAT.NET >>>
Clarinetist, saxophonist, big band and dance band leader and composer Les Brown started his musical career with his own band, Les Brown & His Blue Devils in the early 1930's before transforming the band into the now famous Band Of Renown in 1938. By 1945 the band had introduced Doris Day to the world via the hit song Sentimental Journey, and would go on to have another nine Number One hit songs. The Band Of Renown became a mainstay as the house band for Bob Hope during his radio, stage and TV show career. During one of the Hope shows Les Brown backed a new, unknown singer named Tony Bennett, and the rest of course is history! During a long career Les Brown played with all the greats including Sinatra, Ella and Nat King Cole.