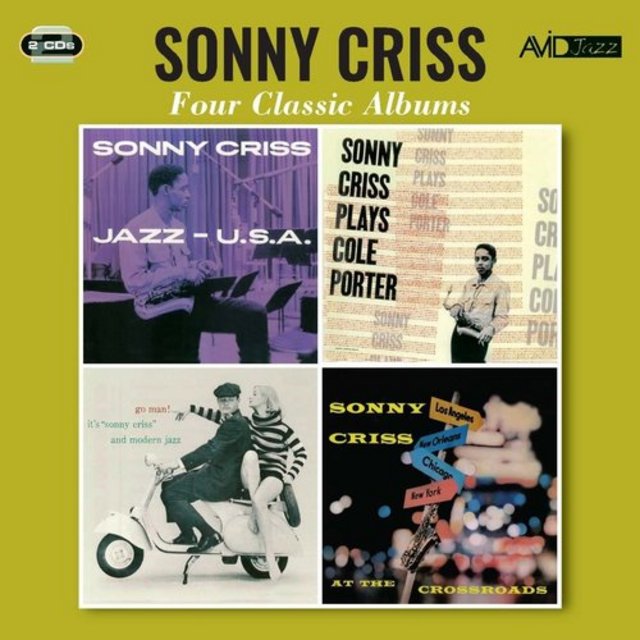 Artist:
Sonny Criss
Album:
Four Classic Albums
Genre:
Hard Bop
Label:
Avid Jazz
Released:
2016
Quality:
FLAC (tracks+.cue)
Tracklist:
CD 1:
Jazz U.S.A. (1956)

Willow Weep for Me (3:50)
These Foolish Things (5:59)
Blue Friday (2:44)
Sunday (3:52)
More Than You Know (3:09)
Easy Living (2:24)
Alabamy Bound (3:11)
Something's Gotta Give (4:29)
West Coast Blues (5:01)
Criss-Cross (3:44)
Ham's Blues (2:34)
Sweet Georgia Brown (2:54)
Plays Cole Porter (1956)
I Love You (4:12)
Anything Goes (3:13)
Easy to Love (3:17)
It's Alright with Me (3:13)
In the Still of the Night (4:20)
Love for Sale (2:46)
Night and Day (4:44)
Just One of Those Things (2:50)
What Is This Thing Called Love (5:45)
I Get a Kick Out of You (2:48)
CD 2:
Go Man! (1956)

Summertime (4:03)
Memories of You (3:49)
Wailin' with Joe (2:46)
How Deep Is the Ocean (2:59)
The Blues for Rose (2:33)
The Man I Love (3:20)
Until the Real Thing Comes Along (4:05)
Blue Prelude (2:39)
After You've Gone (3:42)
Come Rain or Come Shine (3:52)
How High the Moon (3:09)
If I Had You (2:44)
At the Crossroads (1959)
Sweet Lorraine (3:46)
You Don't Know (4:04)
I Got It Bad (3:56)
Sylvia (7:46)
Softly (5:42)
Butts Delight (4:09)
Indiana (5:58)
DOWNLOAD FROM FILECAT.NET >>>
Imagine, you're 15 years old living in Memphis, suddenly you move to L.A. and within 4 years you are playing alto sax in the Howard McGhee band with no less a jazz legend than Charlie Parker! Of course, Sonny was heavily influenced by "Bird" but that did not stop him from developing his own bluesy style of playing. It also did not stop him from drifting around the country playing in various R'n'B and jazz bands led by the likes of Johnny Otis, Stan Kenton and Billy Eckstine. Finally signed to R'n'B label Imperial in 1956, Sonny's first album (and our first selection) Jazz U.S.A was considered " a true underground classic of the hard bop era". Musicians joining Sonny on our four selections include, Kenny Drew, Barney Kessel, Sonny Clark, Leroy Vinnegar and Wynton Kelly. Not a bad line up!