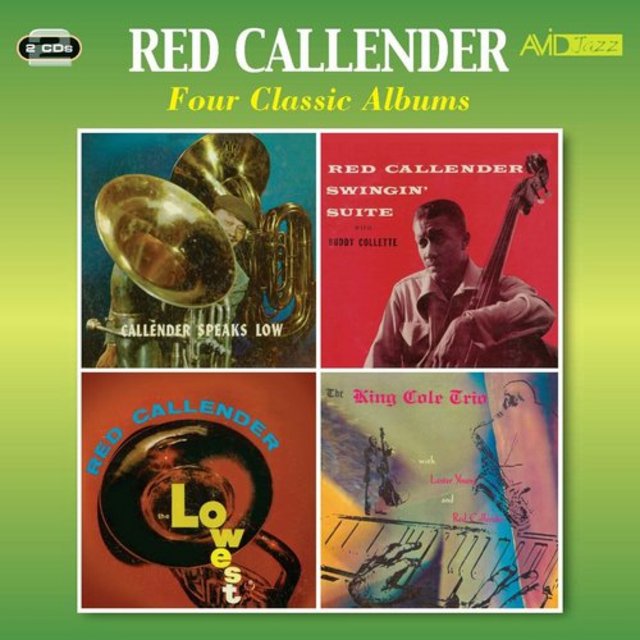 Artist:
Red Callender
Album:
Four Classic Albums
Genre:
Cool, Bop
Label:
Avid Jazz
Released:
2016
Quality:
FLAC (image+.cue)
Tracklist:
CD 1:
Speaks Low (1956)

Speak Low (7:30)
Nice Day (4:17)
In a Sentimental Mood (3:31)
Foggy Day (5:19)
Cris (4:00)
Darn That Dream (2:48)
Gone with the Wind (4:05)
Swingin' Suite (1955)
Skyline (3:06)
Sleigh Ride (3:10)
All for You (3:19)
Outlines (3:27)
Walking on Air (2:50)
You're Part of Me (3:28)
On Again (2:35)
Greenery (3:07)
Pastel (3:51)
October Blue (3:07)
Dancers (3:17)
Bihari (4:19)
CD 2:
The Lowest (1958)

Autumn in New York (3:06)
Pickin', Pluckin', Whistlin' and Walkin' (3:07)
The Lowest (3:14)
Of Thee I Sing (2:48)
Dedicated to the Blues (3:27)
They Can't Take That Away from Me (4:09)
Five-Four Blues (3:07)
Tea for Two (3:20)
Another Blues (4:15)
Volume Too (3:33)
I'll Be Around (2:51)
King Cole Trio (1942)
Body and Soul (5:11)
Tea for Two (4:49)
Indiana (4:55)
Can't Get Started (4:55)
Jumpin' at Mesner's (2:46)
S.M. Blues (2:26)
Jammin' with Lester (3:03)
DOWNLOAD FROM FILECAT.NET >>>
Born in Virginia in 1918, George Sylvester "Red" Callender made his first recording at the age of 19 with the Louis Armstrong All Stars. Quite a start for a young teenager who would go on to have a remarkable career playing bass and tuba (which he had started playing at the age of 12), both in bands and as the go to session bass player. In the early '40's he played with the likes of Lester Young, Nat King Cole (featured here on our selection "King Cole Trio"), Errol Garner, Charlie Parker and Dexter Gordon. On another of our featured albums "Speaks Low", Red introduced the tuba to the jazz world and became known as one of the foremost exponents of the instrument in iazz. Other greats he played with during his career include Art Tatum, Benny Goodman, Billy Eckstine and Charles Mingus and at one point he even turned down a chance to play in the Duke Ellington band, although he did go on to chart success as one of B Bumble and the Stingers!!