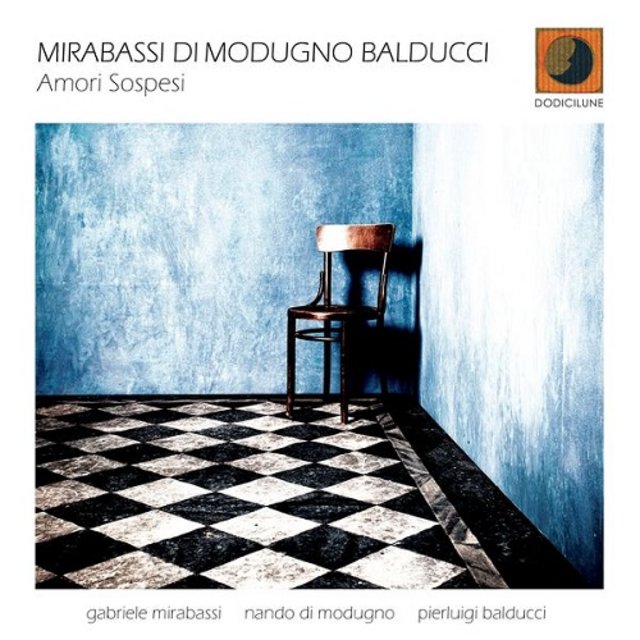 Artist:
Gabriele Mirabassi, Nando Di Modugno, Pierluigi Balducci
Album:
Amori Sospesi
Genre:
World Fusion, Ethnic Jazz
Label:
Dodicilune
Released:
2015
Quality:
FLAC (tracks)
Tracklist:
Gli Amori Sospesi (Nando di Modugno) (07:05)
Minuano (Pat Metheny / Lyle Mays) (02:29)
Fryderyk (Pierluigi Balducci) (04:35)
En La Orilla Del Mundo (Martin Rojas / Pablo Milanes) (03:46)
Choro Dançado (Maria Schneider) (06:29)
I Girasoli (Henry Mancini) (04:51)
The Light Of Seville (Pierluigi Balducci) (05:33)
Alberi Che Camminano (Gabriele Mirabassi) (04:29)
Azul (Pierluigi Balducci / Marta Raviglia) (04:54)
Bido (L'Anima E Lo Sguardo) (Nando di Modugno) (04:15)
DOWNLOAD FROM FILECAT.NET >>>
Personnel:

Gabriele Mirabassi - clarinet
Nando di Modugno - classical guitar

Pierluigi Balducci - acoustic bass

special guests:
Monica Salmaso - vocal (# 04)
Cristina Renzetti - vocal (# 09)
Loves hanging is the title of a recording project that brings together the clarinetist Gabriele Mirabassi, considered to be one of the most important european representatives of his instrument, the guitarist Nando Di Modugno, one of the few to excel in both the classical and jazz, and Pierluigi Balducci, a bassist, one of the most active and popular of the Italian jazz. The album, produced by Dodicilune and promoted with the support of Puglia Sounds Records, will be available from Tuesday, June 30, in Italy and abroad distributed by Ird and in the best digital stores.
puglia sounds record 2015
"Love the Suspended" is a project magical journey from Patagonia to Rio de Janeiro, characterized by the interweaving of jazz, folklore and echoes of the classical tradition. The disc also features the voices of brazilian singer Monica Salmaso and Cristina Renzetti.
"Music as a crossroads of peoples and cultures, a land of welcome ante litteram, the true place of the soul, Terrànima: it is the symbol of the concept of this disc. Stories broken and maybe not reassembled, detached, painful, and eternal, in the expectation of a nòstos, a reunion of the affective, to the earth, to the family, that none of the migrants, of each of latitude and time, knows if and when it will occur. Without, however, losing the hope that the suspension of love (maybe) lost powers. In this sense, perhaps compartment of the suspension, but it is not a loss, hangs a music that digs deep into the territory, and in his melodies ancestral, but refined; a territory that is on the "Orilla del Mundo", on the border, on the border of the world, beyond which there can be nothing, but maybe even a better future."
"Loves hanging" houses, as well as some unreleased tracks of the three musicians, "Minuano" by Pat Metheny and Lyle Mays, "En la orilla del mundo" Martín Rojas and Pablo Milanés, "Choro Dançado" by Maria Schneider, "sunflowers" by Henry Mancini.