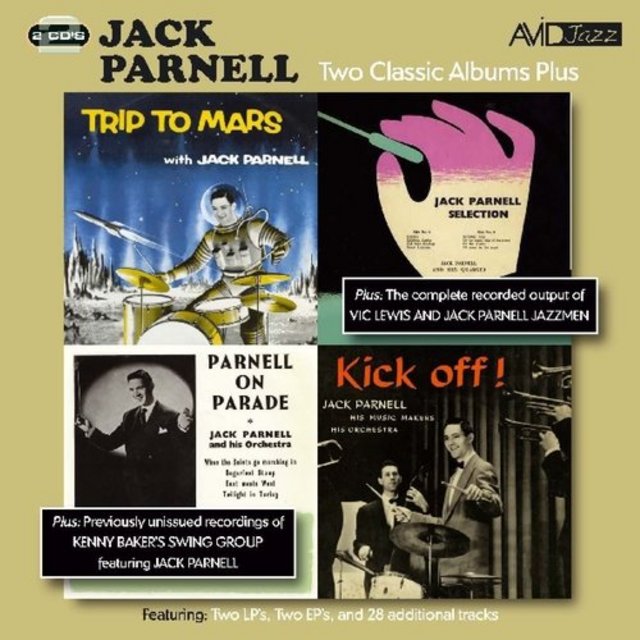 Artist:
Jack Parnell
Album:
Two Classic Albums Plus
Genre:
Swing, Big Band
Label:
Avid Jazz
Released:
2010
Quality:
FLAC (tracks+.cue)
Tracklist:
CD 1:
Trip to Mars

The Hawk Talks (2:52)
Sure Thing (2:55)
The Carioca (2:25)
April in Paris (3:14)
Cottontail (2:47)
Catherine Wheel (2:34)
Trip to Mars (2:34)
Summertime (2:45)
The Champ (3:19)
Skin Deep (2:58)
Vic Lewis and Jack Parnell Jazzmen (complete recordings)
Johnny's Idea (2:40)
Mean Old Bed Bug Blues (3:44)
Jazz Band Jump (3:03)
I'm Coming Virginia (2:49)
Jazz Men Blues (3:15)
Ja Da (2:44)
Why Begin Again? (Pastel Blue) (3:03)
Sugar (2:44)
Is You Is or Is You Ain't My Baby? (3:24)
That's A-Plenty (3:04)
Ugly Chile (2:56)
Indiana (2:37)
Someday Sweetheart (3:02)
Get Happy (3:02)
Singin' the Blues (3:30)
Prince of Wails (2:56)
CD 2:
Parnell on Parade

When the Saints Go Marching In (2:43)
Sugarfoot Stomp (2:29)
East Meets West (2:51)
Twilight in Turkey (2:33)
Kick Off!
Kick Off (2:12)
Topaz (3:04)
Fuller Bounce (2:44)
Knock Out (2:37)
Kenny Baker's Swing Group
Dixon's Dilemma (2:59)
Blue Lou (2:44)
Jack Parnell Selection
Quickie (2:16)
Jukebox Jumba (2:55)
Old Man Re-Bop (2:58)
Sweet Lorraine (3:00)
Scrubber Time (3:04)
On the Sunny Side of the Street (3:18)
On the Alamo (2:55)
I'll Never Be the Same (3:30)
Jack Parnell and His Quartet
Soft Noodles (2:45)
Just You, Just Me (3:06)
Can't We Be Friends? (2:54)
Stompin' at the Savoy (2:55)
Bonus tracks
The White Suit Samba (2:57)
Route 66 (2:56)
A Sky Blue Shirt and a Rainbow Tie (2:33)
Shake, Rattle and Roll (2:20)
Topsy (2:41)
The Golden Striker (2:27)
DOWNLOAD FROM FILECAT.NET >>>
AVID Jazz here presents two classic Jack Parnell albums plus two classic E.P's plus 27 additional recordings including the complete recorded output of The Vic Lewis and Jack Parnell Jazzmen and previously unissued recordings of Kenny Bakers Swing Group featuring Jack Parnell. Including original LP and E.P. liner notes on a finely re-mastered and low priced double CD.
To coin a phrase from one of the featured E.P's in our new release, we certainly do have a parade of Parnells for your entertainment! On "Trip to Mars" Jack is joined by some of the finest musicians in the country including Ronnie Scott, Kenny Graham, trumpeter Jimmy Deuchar, Harry Klein, Sammy Stokes and Phil Seaman on hand as second drummer when Jack takes over vocal or conducting duties! You will also hear the famous drum duets between Jack and Phil on "The Champ" and "Skin Deep"! On "Parnell on Parade" we can hear Jack really going at his kit on all four tracks backed by a tremendously hard hitting band including Don Honeywell on baritone sax. The E.P features two standards and two "Eastern" style numbers all performed in the inimitable Parnell style. On "Kick Off" Jack makes a rather telling quote on the original liner notes…… "To my mind, if you don't have a good drummer you don't have a good band! It's the drummer who knits the band together". Well you can hear some mighty fine knitting on the four tracks featured on this E.P where Jack is joined by such British jazzmen as Laddy Busby, Bob Burns, Max Harris, Joe Temperley, Ronnie Simonds and Kenny Napper. On hand once again to join Jack on another stunning drum duet "Kick Off" is the amazing Phil Seamen! So this is the AVID tribute to a late great and perhaps under-rated jazzman who may have been better known to the wider public for his light entertainment roles, but really at heart was a true jazz man!