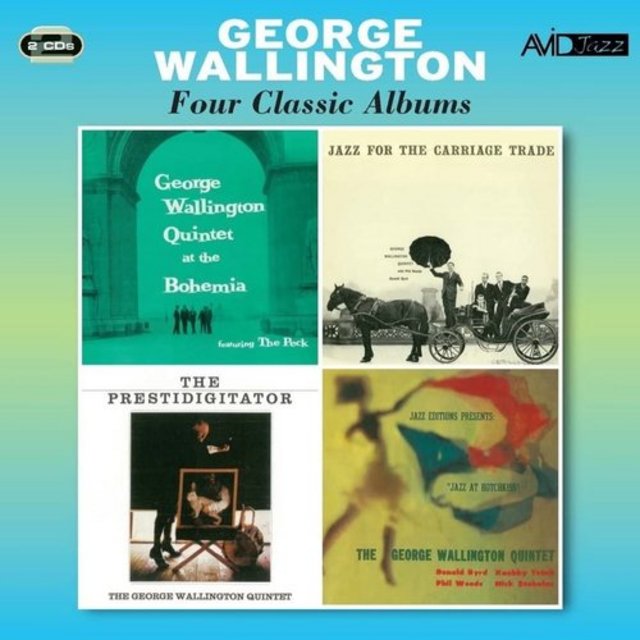 Artist:
George Wallington
Album:
Four Classic Albums
Genre:
Bop
Label:
Avid Jazz
Released:
2016
Quality:
FLAC (tracks+.cue)
Tracklist:
CD 1:
At the Bohemia (1955)

Johnny One Note (8:25)
Sweet Blanche (7:00)
Minor March (6:48)
Snakes (5:57)
Jay Mac's Crib (8:39)
Bohemia After Dark (7:58)
The Peck (0:24)
Jazz for the Carriage Trade (1956)
Our Delight (5:34)
Our Love Is Here to Stay (5:29)
Foster Dulles (5:05)
Together We Wail (6:49)
What's New? (7:08)
But George (5:49)
CD 2:
Jazz at Hotchkiss (1957)

Dance of the Infidels (6:52)
Strange Music (8:47)
Before Dawn (5:57)
Ow (10:36)
'S Make 'T (7:59)
The Prestidigitator (1957)
In Salah (4:59)
Composin' at the Composer (5:45)
Jouons (6:01)
Rural Route (4:29)
Promised Land (5:43)
August Moon (4:53)
The Prestidigitator (6:35)
DOWNLOAD FROM FILECAT.NET >>>
Born Giacinto Figlia in Palermo, Italy in 1924 the young George Wallington was schooled in opera and the classics by his father and had moved to New York City by 1925. It was hearing Lester Young playing in the Basie band that led to him to get involved in the New York jazz scene where he soon found himself accompanying Billie Holiday at George's club in Greenwich Village and perhaps more unlikely also playing opposite Liberace in Philadelphia! Wallington was back in New York when Charlie Parker and Dizzy Gillespie set the place on fire with a new sound called Be Bop. Although he had arrived at his style independently he was likened to Bud Powell and he became one of the few white musicians to be invited to play what was essentially a black musical movement. Amongst the great musicians he played with in the early days were Parker, Dizzy, Clifford Brown, Quincy Jones, George Auld, Terry Gibbs, Sarah Vaughan and Lionel Hampton. Later, younger musicians would seek him out such as Gerry Mulligan, Zoot Sims, Al Cohn, Donald Byrd, Jackie McLean, Phil Woods, Paul Chambers and Art Taylor.