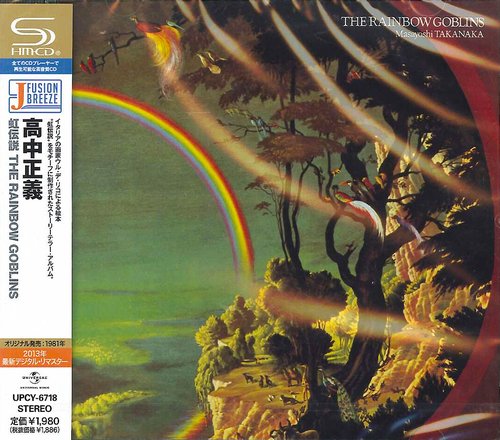 Artist:
Masayoshi Takanaka
Album:
The Rainbow Goblins
Genre:
Fusion
Label:
Universal Music
Released:
1981/2013
Quality:
FLAC (tracks+.cue)
Tracklist:
Prologue (Takanaka) - 3:16
Once Upon a Song (Takanaka) - 5:10
Seven Goblins (Takanaka) - 3:12
The Sunset Valley (Takanaka) - 4:24
The Moon Rose (Takanaka) - 5:39
Soon (Takanaka) - 6:27
Magical Night Light (Takanaka) - 1:53
Rainbow Paradise (Takanaka) - 5:06
Thunder Storm (Takanaka) - 3:13
Rising Arch (Takanaka) - 4:50
Just Chuckle (Takanaka) - 3:43
Rainbow Was Reborn (Takanaka) - 5:58
Plumed Bird (Takanaka) - 7:33
You Can Never Come to This Place (Takanaka) - 8:05
DOWNLOAD FROM FILECAT.NET >>>
Personnel:

Masayoshi Takanaka - guitar
Masahiro Miyazaki, Shigeru Inoue, Shuichi Murakami - drums
Akihiro Tanaka - bass
Kiyosumi Ishikawa, Izumi Kobayashi - keyboards
Yuki Sugawara, Makoto Kimura - Latin percussion
Koji Satsuma - saxophone
A beautiful and wonderfully textured album full of life and color. The album follows the narrative of a storybook of the same name, which tells the adventures of a group of goblins. Takanaka, uses only spoken word bits in the beginning of most tracks to tell the story, and then lets the music do the rest, with most of it surprisingly sounding very in-theme with the actual plot of the book. He incorporates elements of traditional Japanese music, synthpop, rock, and plunderphonics as well, manipulating samples and other instruments to create sounds that were previously unheard of.
Even though the album could be cut down a good ten minutes, and the song lengths are pretty inconsistent, The Rainbow Goblins is such a fun and playful interpretation of the book that it's hard to believe that the goblins themselves would hear anything else but this in their place.