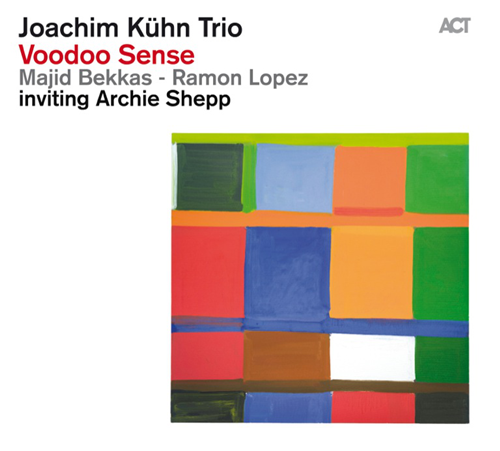 Artist:
Joachim Kuhn Trio
Album:
Voodoo Sense
Genre:
World Fusion, Contemporary Jazz
Label:
ACT Music
Released:
2013
Quality:
FLAC (tracks+.cue)
Tracklist:
Kulu Se Mama
Gbalele
L'eternal Voyage
Voodoo Sense
, Crossing the Mirror
Firehorse
DOWNLOAD FROM FILECAT.NET >>>
Personnel:

Joachim Kühn - piano
Majid Bekkas - guembri, vocals & kalimba (1), balafon (4)
Ramon Lopez - drums, percussion
Archie Shepp - tenor sax (1, 3, 4)
Kouassi Bessan Joseph - talking drum, zinu congas (1, 2, 4), vocals (2)
Gouria Danielle - percussion (1, 4), vocals (2)
Abdessadek Bounhar - karkabou (1, 2, 4)
Gilles Ahadji - jembe (1, 4)
Dally Jean Eric - calabas (1)
The fourth outing from German pianist Joachim Kühn, Moroccan vocalist and guembri (bass lute) player Majid Bekkas, and Spanish drummer Ramon Lopez continues the trio's exploration into free-jazz and North African roots that began with Kalimba ( ACT Music, 2007). The percussion and rhythms of the Magreb were more prominent on Out of the Desert (ACT Music, 2009) which featured a cast of Berber musicians, while Chalaba (ACT Music, 2011) returned to the stripped down trio format. Here, Kühn again opts for a percussion-heavy approach, augmented on half the tracks by saxophonist Archie Shepp. The result is an intoxicating brew of Afro-centric jazz—rhythmically dynamic, free spirited and emotionally charged.
The standout track is the twenty-minute opener, "Kulu Sé Mama," originally written by percussionist Juno Lewis for saxophonist John Coltrane's album of the same name recorded in late 1965, though released two years later. Shepp, who was championed by Coltrane as part of the emerging free jazz scene, reprises the role played by Pharoah Sanders, improvising with joyous abandon. It's a fairly faithful interpretation, particularly in terms of emotional intensity —though in the potent momentum provided by talking drum, calabash, conga, kalimba, karkabou (metal hand-held clackers) and djembe—and Kühn and Shepp's exuberant improvisations—it's definitely more voodoo than gospel blues in spirit—a powerful evocation of roots and ancestory.
Kouassi Bessan Joseph and Gouria Danielle's celebratory vocal chants bring a strong African flavor on "Gbalele," with Kühn's scurrying improvisations underpinned by Lopez and Bekka's drive, Bessan's talking drums and Abdessadek Bounhar's clattering train-rhythm pulse on karkabou. The same insistent rhythms color "Voodoo Sense," with Bekka's balaphone (wooden marimba) adding additional texture, while Shepp's free improvisations stir up the brew. The saxophonist and Kühn are on lyrical form on the balladic gem "L'eternal Voyage"; Lopez's brushes and Bekka's slow bass pulse set the tone initially but there's a smoldering edge to the bluesy improvisations that unfold, accentuated by intermittent cymbal crashes.
European classicism characterizes Kühn s playing on "Crossing the Mirror," an edgy, slow-paced trio number without an obvious rhythmic compass. The three musicians' meandering paths are closely bound up in this abstract yet hypnotic improvisation. "Firehorse" lives up to its colorful name, charging and rearing up with an unrelenting intensity. Kühn's untethered soloing is punctuated by Lopez' lashing cymbal and spurred by the general rhythmic propulsion. Bekka in turn solos, supported by Lopez' bustle before the trio reunites in a heady maelstrom of dissonant piano, rumbling bass and cracking drums. The sudden conclusion provides a dramatic exclamation mark to a stirring nine minutes of unrelenting tension and passion.
One wonders if' Kühn's European/North African/Iberian trio has reached a kind of creative peak with Voodoo Sense, because for emotional energy alone it will be difficult to top. On the other hand, they could continue in the same vein indefinitely—like Keith Jarrett's trio, though plying original material—recreating more of the same haunting magic. (
Ian Patterson
)