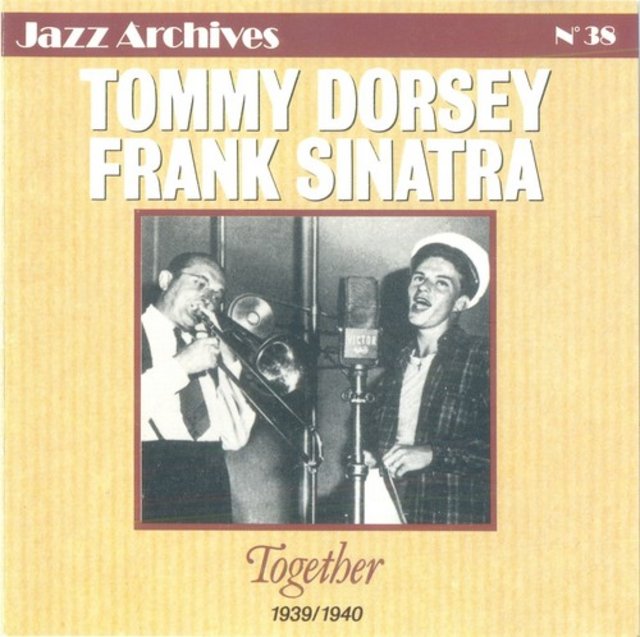 Artist:
Tommy Dorsey & Frank Sinatra
Album:
Together 1939-1940
Genre:
Vocal Jazz, Swing, Big Band
Label:
EPM Musique, Jazz Archives
Released:
1991
Quality:
FLAC (tracks+.cue)
Tracklist:
Milenberg Joys (Pt1 &2) (Mares - Rappolo - Morton) 5'07
Blue Moon (L. Hart - R. Rodgers) 3'15
Tea For Two (I. Caesar - V. Youmans) 3'09
Lonesome Road (Pt1 &2) (Shilkret - Austin) 4'49
Well, All Right (Faye - Raye - Howell) 3'09
Night In Sudan (Т. Dorsey) 3'11
Stop! It's Wonderful (B. Reichner - C. Boland) 2'50
Stomp It Off (S. Oliver) 3'43
Indian Summer (V. Herbert) 3'24
Easy Does It (S. Oliver - Young) 3'32
Too Romantic (Burke - Monaco) 3'15
I'll Be Seeing You (Kahal - Fain) 3'20
Polka Dots And Moonbeams (Burke - Van Heusen) 3'20
This Is The Beginning Of The End (Gordon) 3'12
Hear My Song Violetta (Bernier - Emmerich - Klase - Inkesch) 2'49
Imagination (Van Heusen - Burke) 3'13
It's A Lovely Day Tomorrow (I. Berlin) 2'27
I'll Never Smile Again (Lowe) 3'06
Whispering (Schonberger) 2'59
The One I Love (Kahn - Jones) 3'33
DOWNLOAD FROM FILECAT.NET >>>
When Frank Sinatra joined the Tommy Dorsey Orchestra, it was as replacement for crooner Jack Leonard. The first Dorsey-Sinatra recordings, made for Victor, followed in february 1940. As was the fashion at the time, the Dorsey aggregation also featured a vocal group - the Pied Pipers. Sinatra was no beginner, having launched his professional career in the mid-thirties. His first employer of any renown, however, had been trumpeter Harry James, who signed him on to sing with his new big band in late 1939. But, by the following january, Sinatra had joined Dorsey, staying with the celebrated trombonist's outfit until the end of 1942. This was an era when all big bands found it a virtual necessity to carry vocalists (either a boy or girt singer, or a vocal group, or sometimes all three I) to satisfy audience demand for popular songs. And jazz's star instrumentalists had no choice but to bow to the fashion. Usually, they considered the singer as no more than a living concession to public taste, somebody who, even if he didnt have much of a voice, at least oozed sex-appeal and stage presence. In exceptional cases, however, - and one thinks, of course, of Sinatra and Bing Crosby - the man up front might prove the equal of any instrumentalist, or even of star soloists.
As we can hear in this album, the celebrated Sinatra career began under the sign of swing. And that in the company of one of the top jazz outfits of the day, the Tommy Dorsey Orchestra.