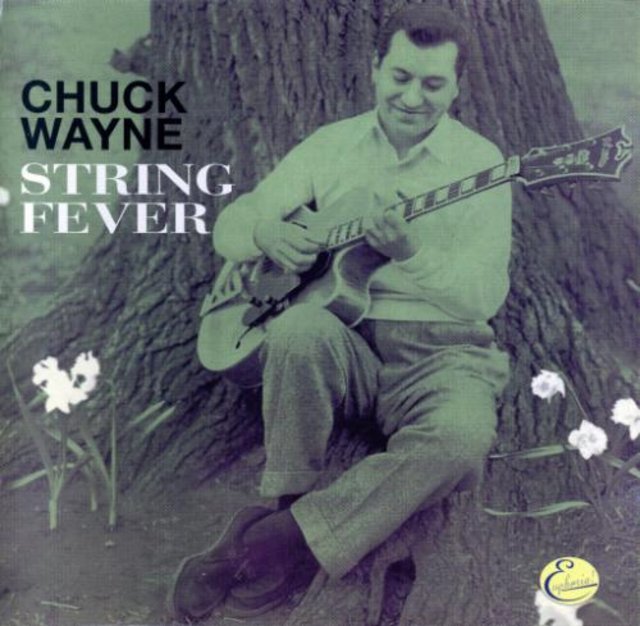 Artist:
Chuck Wayne
Album:
String Fever
Genre:
Bop, Cool
Label:
Euphoria
Released:
2001
Quality:
FLAC (tracks)
Tracklist:
Lullaby in Rhythm (Hirsch-Sampson-Profit-Goodman) - 3:07
Embraceable You (Gershwin-Gershwin) - 4:38
Love for Sale (Porter) - 5:09
Along with Me (Rome) - 3:18
Carmel (Wayne) - 3:16
Body and Soul (Green) - 3:30
Snuggled on Your Shoulder (Young-Lombardo) - 2:33
How About You (Freed-Lane) - 3:48
Lover Man (Davis-Ramirez-Sherman) - 4:24
What a Difference a Day Made (Adams-Grever) - 3:26
Rockabye Bay (Curtis-Wood) - 3:27
Lullaby in Rhythm (alternate take) (Hirsch-Sampson-Profit-Goodman) - 3:09
Love for Sale (alternate take) (Porter) - 4:11
Carmel (alternate take) (Wayne) - 3:17
Snuggled on Your Shoulder (alternate take) (Young-Lombardo) - 2:41
How About You (alternate take) (Freed-Lane) - 3:36
DOWNLOAD FROM FILECAT.NET >>>
The re-mastering and release of Chuck Wayne's String Fever should begin to focus attention on a musician who was not only a brilliant guitarist but also a subtle and significant composer/arranger. On this recording Wayne became the first jazz guitarist to front a big band. He is the main soloist. He also conducted and arranged all of the compositions. Wayne's solo work, rising above an inspired band, is as good as jazz guitar has been caught on tape as he swings from be-bop to ballads to latin rhythms with a masterful grace and assurance. The extra treat is that the original album was beautifully recorded, and has been exquisitely re-mastered onto CD.
At the age of 21 Chuck Wayne was a lead soloist for he Woody Herman band. Shortly after, he was Dizzy Gillespie's choice as guitarist on some of the earliest classic recordings of be-bop. From the late 40s to the early 50s Wayne helped to fashion the elegant George Shearing Quintet sound of intertwining guitar, piano, and vibes voicing. Right before the recording of String Fever Wayne was Tony Bennett's arranger and musical director which may help account for the beautifully framed instrumental solos on String Fever.
In 1957, with the help of the generous backing of RCA (Vik), Wayne entered the studio with a well rehearsed band that included the likes of Gene Quill, Eddie Costa, and the lyrical trumpeter, Don Joseph, who only three months before had been a featured soloist on recordings with the Gerry Mulligan Orchestra. The final result is a mix of sextet and big band recordings chosen from three days of taping.
Rarely has the guitar been so appreciatively recorded. Chuck Wayne's solos are emotionally direct with a clarity of construction that only a master could touch. The performance of Don Joseph is also noteworthy. Here is a now obscure trumpeter playing solo after solo of soulful music in a traditional style that simply sings. The conception of the guitar and trumpet as main soloists is one of the many pleasures of this recording. Others include the piano and vibes work of the young Eddie Costa, the alto sax solos of Gene Quill, and a the tenor solos of the mysterious Caesar DiMauro. Throughout, the Costa led rhythm section swings with Clyde Lombardi on bass and Sonny Igoe (or Jimmy Campbell) on drums. This is a disc that sounds like everybody is thrilled to be playing, the chemistry is a delight.
String Fever is simply great jazz, and will eventually find its place as a significant jazz recording of its era. BMG (Spain) should be commended for their foresight and for the quality of their reissue. This is an important release, perhaps the masterpiece of a great jazz guitarist. Hopefully, the time is approaching when the world of jazz (especially its historians and critics) will finally acknowledge one its unlauded multi-talented masters, Chuck Wayne.
Review by Mike Neely