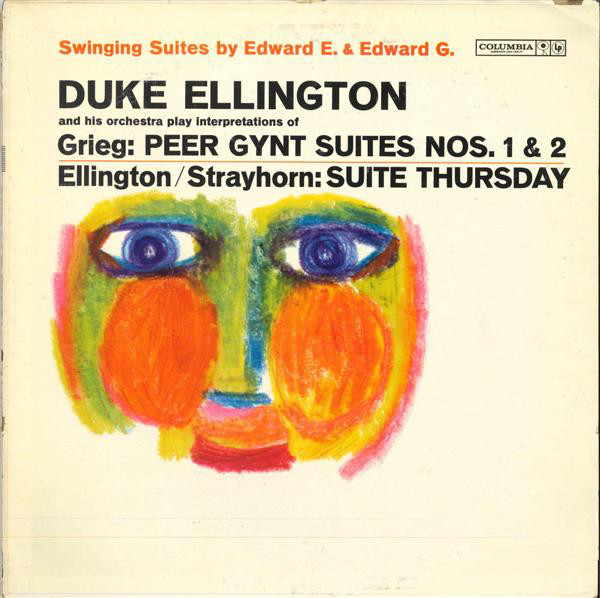 Artist:
Duke Ellington And His Orchestra
Album:
Peer Gynt Suites, Suite Thursday
Genre:
Big Band
Label:
Columbia
Released:
1960
Quality:
FLAC (image+.cue)
Tracklist:
Selections From Grieg: Peer Gynt Suites Nos. 1 And 2

Morning Mood 4:24
In The Hall Of The Mountain King 2:35
Solvejg's Song 4:07
Ase's Death 3:49
Anitra's Dance 2:58

Suite Thursday
Misfit Blues 4:07
Schwiphti 3:04
Zweet Zurzday 3:55
Lay-By 4:47
DOWNLOAD FROM FILECAT.NET >>>
Personnel:
Piano - Duke Ellington
Saxes - Johnny Hodges, Harry Carney, Jimmy Hamilton, Paul Gonzalves, Russell Procope, Paul Horn
Trumpets - Ray Nance, Willie Cook, Andres Meringuito, Eddie Mullins
Trombones - Lawrence Brown, "Booty" Wood, Britt Woodman, Juan Tizol, Matthew Gee
Bass - Aaron Bell
Drums - Sam Woodyard
When the Ellington-Strayhorn version of Tchaikovsky's Nutcracker Suite was released, many reviews of this wonderful recording expressed surprise that Duke and Billy had remained so true to the composer, preserving his melodies and his moods so carefully. This Ellington recording of Peer Gvnt will probably inspire similar comments, but Ellington fans will not be surprised. Duke has deep respect for all things of worth, and as a composer he has suffered a thousand times over the things that have been done to his own music through the years. His approach to the music of other composers is the approach he hopes he will receive from interpreters of his own music - a mixture of respect and innovation. Mr. Grieg, had he led a band, would probably have swung Mountain King himself, but perhaps not with Ellington harmonies and Ellington plungers. Duke's five selections from the Peer Gynt Suites were recorded in Hollywood at the same time The Nutcracker Suite was made. And, even more than his Tchaikovsky arrangements, Ellington's Grieg demonstrates the remarkable things his fifteen musicians can do. Calling this orchestra a jazz band is as inadequate as classifying Duke Ellington as a piano player.
The Peer Gynt Suite No.l contains four of the selections Duke chose. The first is Morning, which the Ellington orchestra plays with marvelous dynamics and delicate melody, beginning with Paul Gonzalves' tenor sax and building through Jimmy Hamilton's clarinet to a suitable sunrise from Harry Carney's baritone. There is full, deep brass support. Duke concocted his arrangement of In The Hall of the Mountain King while strolling around the halls of the Chateau Marmont Hotel on Hollywood's Sunset Strip, and, as you might expect, it jumps all the way. The Ellington "pep section" is featured throughout (Ray Nance and Willie Cook, trumpets, "Booty" Wood, trombone), and there's lots of piano. Solvejg is from the second Peer Gynt Suite, and it features Jimmy Hamilton's very "legitimate" clarinet, cadenzas and all, and "Booty" Wood's trombone. Ase's Death is a beautiful blending of Ellington and Grieg, with Sam Woodyard providing the sombre rhythm and Duke's reeds and brass making the wonderful sounds no other band in the world can produce. Anitra's Dance closes the Peer Gynt side and features Johnny Hodges' alto sax, Jimmy Hamilton's clarinet, and Paul Gonzalves' tenor sax.
Suite Thursday is the result of a commission from the directors of the Monterey Jazz Festival in Monterey, California for an original Ellington work to be written and presented at the Festival on September 23rd, 1960. Monterey is Steinbeck country, and the author's Sweet Thursday inspired the title of Ellington's four-part suite as well as many of its musical episodes. It was recorded in Hollywood immediately after the Festival with the regular Ellington orchestra, minus Johnny Hodges, who was ill at the time, and Britt Woodman, who was replaced by Matthew Gee. Paul Horn, excellent West Coast alto saxophonist, replaced Hodges, and Juan Tizol joined the band for this recording.
Suite Thursday is an Ellington-Strayhorn opus, filled with the inspired variety of solos and section sounds of the band. As usual, it has eluded many reviewers, and its titles and relation to Steinbeck are not to be explained here; but because at least one critic failed to see any relationship between the movements, it is perhaps necessary to point out that the Suite begins and ends with a minor-sixth interval, and that this interval occurs dozens of times throughout, forming a striking theme for the Suite.
Part I is called Misfit Blues. It begins with Lawrence Brown playing the interval and leads to a piano solo and a rocking tempo. Most of this section features the reeds with Willie Cook's trumpet mixed in, and in Monterey, Duke said it described John Steinbeck, "a swinger". The part ends with shattering brass chord. Part II, called Schwiphti, proves, according to Duke, that "Cannery Row had a tempo". It is a fast, flying piece with Ellington piano passages throughout, solos by Ray Nance, trumpet, and Paul Gonzalves. It features also the brass section in an array of mutes and comes to a soaring finale with Meringuito's high trumpet and a plunge to the reeds. Duke calls Part III Zweet Zurzdav and uses it to describe episodes in the Steinbeck novel. It begins with a Latin beat and the theme again, this time on piano. Zweet Zurzdav moves into 4/4 tempo for the reed chorus and a Lawrence Brown trombone solo. Duke provided programme notes at Monterey during this section by describing the clarinet solo as "The beautiful dream", or "The fuzz of imagination", and the Gonzalves tenor solo as "The fog that clouds it". I know of no better explanations. The final part, called Lay-by. (an emergency parking area in England), describes Doc and Suzy "swinging off to La Jolla", to quote another Ellington programme note! Again the theme is featured throughout, this time faster. This section features Ray Nance on violin all the way, alternating between bowed and pizzicato figures. It is one of the great Nance solos, and it proves that if a man plays jazz, he swings even on a fiddle. Thus Mr John Steinbeck and Mr. Edvard Grieg have been harmonized by Mr. Duke Ellington. As Time Magazine once said, Duke Ellington "could probably write a composition based on a stock report," and perhaps he will. If he does, his band will turn the Wall Street Journal into the wildest chart you ever heard.